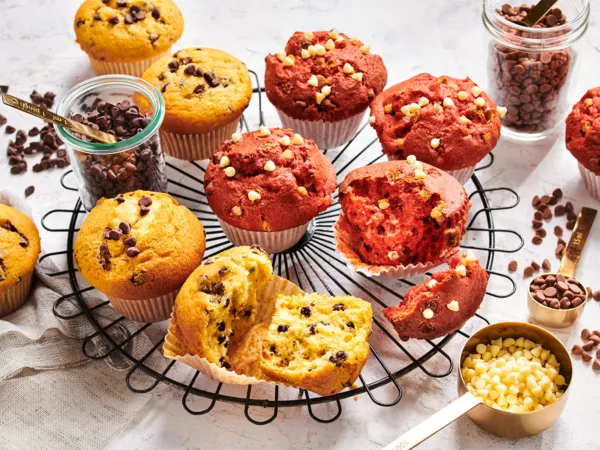 Red velvet muffins with white chocolate drops
Muffins with cocoapowder, white chocolate and a red coloring. With these ingredients you can make the most delicious red velvet muffins! Get started quickly and treat your loved one with these delicious red velvet white choco muffins.
What you need to make your red velvet muffins with white chocolate drops:
Ingredients
500 g FunCakes Mix for Muffins
FunCakes Chocolate Drops White
FunColours Gel Red
Van Houten Robuuste Red Cameroon Cacao Powder
200 g plantbased oil (220 ml)
200 ml water
Necessities
FunCakes Baking Cups White
Wilton cooling grid
Wilton Recipe Right® Muffin Baking Pan 12 cupcakes
Wilton Verse-Tools Silicone Scraper
Preheat the oven to 180°C (convection oven 160°C).
Prepare 500 g FunCakes Mix for Muffins as indicated on the package. Add cocoa powder and red food coloring as desired. Add the white chocolate drops as desired and fold this through the batter.
Divide the baking cups over the muffin pan and fill them to just below the top with batter. Bake the muffins in the preheated oven for about 25 minutes until golden yellow. Let them cool down by using a cooling grid.
Just a little while before you can enjoy your muffins. Don't forget to share your creation:
#funcakesbyme