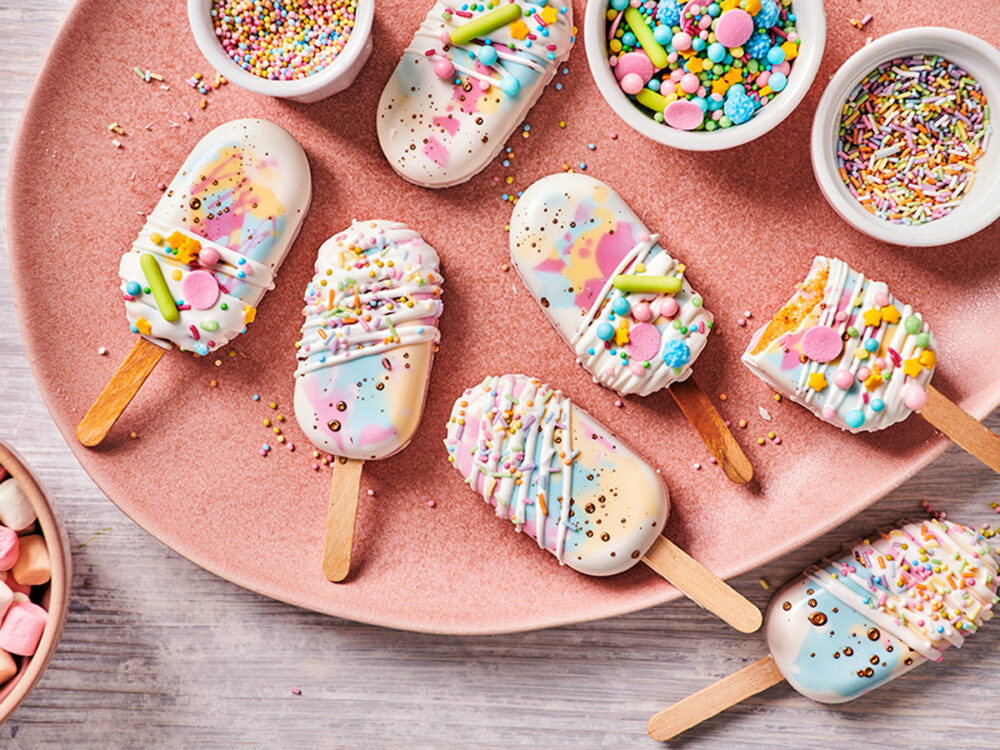 Pastel cakesicles with matt sprinkles
Trendy cakesicles with the newest sprinkles from FunCakes! Turn your normal cakesicles into something fun and colorful. Mix and match different sprinkles and colors of deco melts to finish them off! These pastel cakesicles are perfect for any happy occasion.
What you need to make your pastel cakesicles with matt sprinkles:
Ingredients
250 g FunCakes Mix for Cupcakes
100 g FunCakes Chocolate Melts White
FunCakes Deco Melts Yoghurt
FunCakes Deco Melts Yellow
FunCakes Deco Melts Pink
FunCakes Deco Melts Light Blue
FunCakes Edible Metallic Paint Dark Gold
FunCakes Sprinkle Medley Happy
FunCakes Sugar Rods Matt Green
125 g unsalted butter
2,5 egg (approx. 125g)
Necessities
FunCakes Decorating Bags
FunCakes Baking Cups White
Wilton Recipe Right® Muffin Baking Pan 12 cupcakes
Silikomart Silicone Ice Mold Classic Mini
Brush
Preheat the oven to 180°C (convection oven 160°C).
Prepare 250 g FunCakes Mix for Cupcakes according to the instructions on the package. Divide the baking cups over the muffin pan and spoon the batter into the cups. Bake the cupcakes for about 20-22 minutes.
Crumble the cupcakes when they have cooled down and mix in 50-100 g melted FunCakes Chocolate Melts White. You should get a smooth dough, certainly not too stiff or too dry.
Melt the colored FunCakes Deco Melts with some yoghurt Deco Melts to get a lighter color in the microwave according to the instructions on the package. Spread a variation of color in the mold with a spoon and insert the ice cream stick. Let this set in the fridge. Repeat with another layer if necessary so that it does not break when you take the cakesickles out of the mold.
Carefully remove the popsicle stick from the mold and fill with the prepared dough. Don't fill all the way to the top, but leave some space. Put the popsicle stick back and cover the top of the mold with melted Deco Melts and let it cool thoroughly in the fridge.
Then carefully remove them from the mold, splash some FunCakes Edible Metallic Paint Dark Gold on the ice creams with a brush, drizzle some yogurt Deco Melts over the ice creams and immediately sprinkle some of the medley or sprinkles over it.
Just a little while before you can enjoy your pops. Don't forget to share your creation:
#funcakesbyme