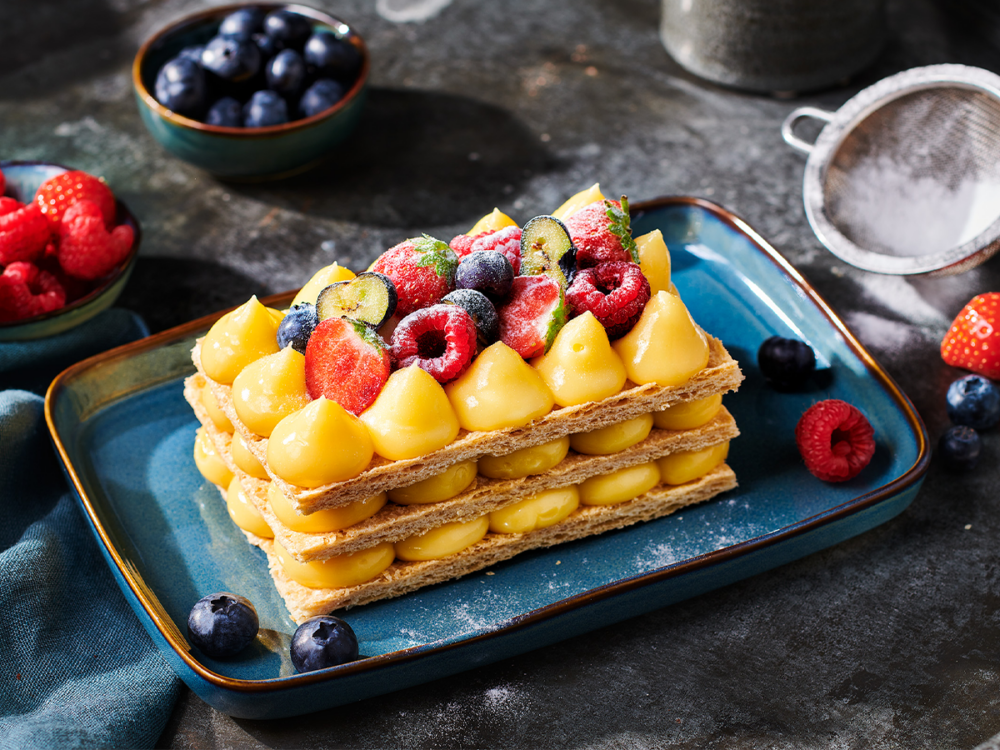 Mille-feuille with fruit
A classic French pastry! Puff pastry, Crème Patisserie with delicious fruit on top. A real tradition and oh so delicious! Bon appétit.
What you need to make your mille-feuille with fruit:
Ingredients
300 g FunCakes Mix Mix for Crème Patisserie
750 ml water
2 rolls puff pastry
Blueberries
Raspberries
Strawberries
Necessities
FunCakes decorating bags
Wilton tip #2A round
Wilton parchment paper
Preheat the oven to 200 °C (convection oven 180 °C).
Cut the puff pastry into equal pieces, you need 3 layers per pastry. Place the puff pastry slices on a baking tray and poke holes in the puff pastry with a fork.
Place a sheet of baking paper over the slices of puff pastry and place it on top of a second baking tray. This ensures that the puff pastry does not 'puff' but bakes nice and flat. Bake the puff pastry for 20-25 minutes until golden brown and allow to cool.
Then put this in a decorating bag with #2A and pipe on caps on the puff pastry. Cover the top layer of puff pastry with caps of custard cream and fresh fruit.
Just a little while before you can enjoy your pastries. Don't forget to share your creation:
#funcakesbyme