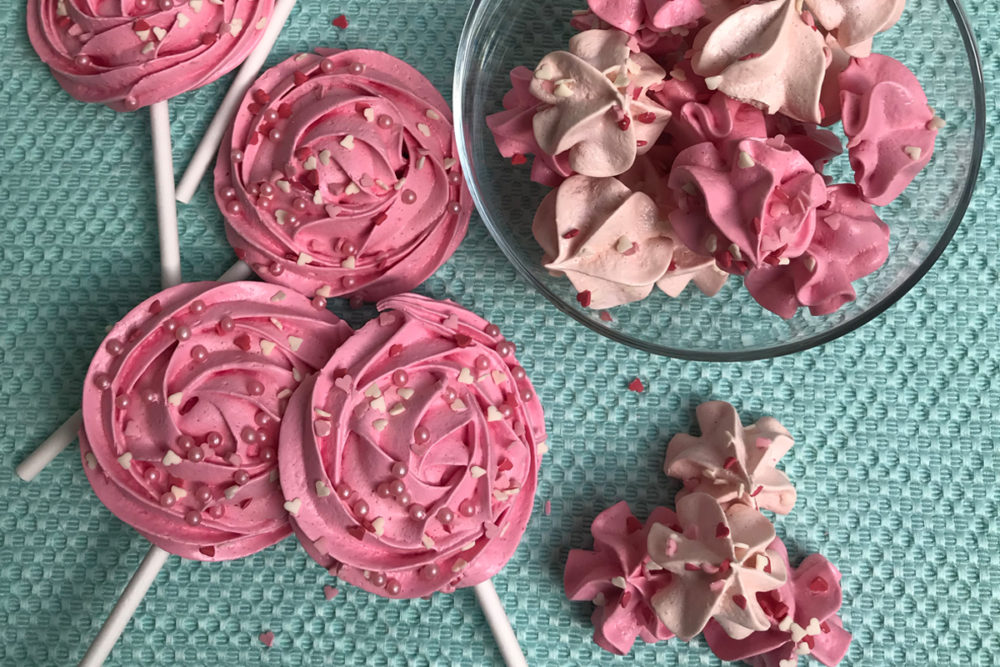 Meringues and lollipops
Do you want to surprise someone last-minute? This easy recipe will do the job! Perfect for Mother's Day or Valentine's Day!
What you need to make your meringues and lollipops:
Ingredients
125 g FunCakes Icing Sugar
FunColours Gel Pink
FunCakes Mini Hearts Pink/White/Red
FunCakes Sugarpearls 4mm Pearl Pink
125 g sugar
10 g cornstarch
4 egg whites
Necessities
FunCakes decorating bags
FunCakes Lollipop sticks 15cm
Wilton Tip #1M Open Star
Wilton Parchment paper
Preheat the oven to 110 ° C (convection oven 100 ° C).
Put the icing sugar, sugar and cornstarch in a bowl and mix it together. Beat the 4 egg whites on the highest speed until frothy. Add the sugar mixture bit by bit. Add some pink colouring gel while mixing. Mix this on the highest speed for 6-8 minutes.
Tip! Potentially divide the foam into two portions and colour it in two shades of pink.
Line a baking tray with parchment paper. Put the foam in a decorating bag with tip #1M. Spray some small tufts on the baking paper, leaving some space in between. Press a lollipop stick in it. Spray a nice large rosette over this and sprinkle it with the hearts and pearls.
With the remaining foam, spray small tufts in between the lollipops and sprinkle them with the mini hearts. Bake the meringues in the oven for about 2 hours and let it cool down on a cooling grid.
Just a little while before you can enjoy your pops. Don't forget to share your creation:
#funcakesbyme