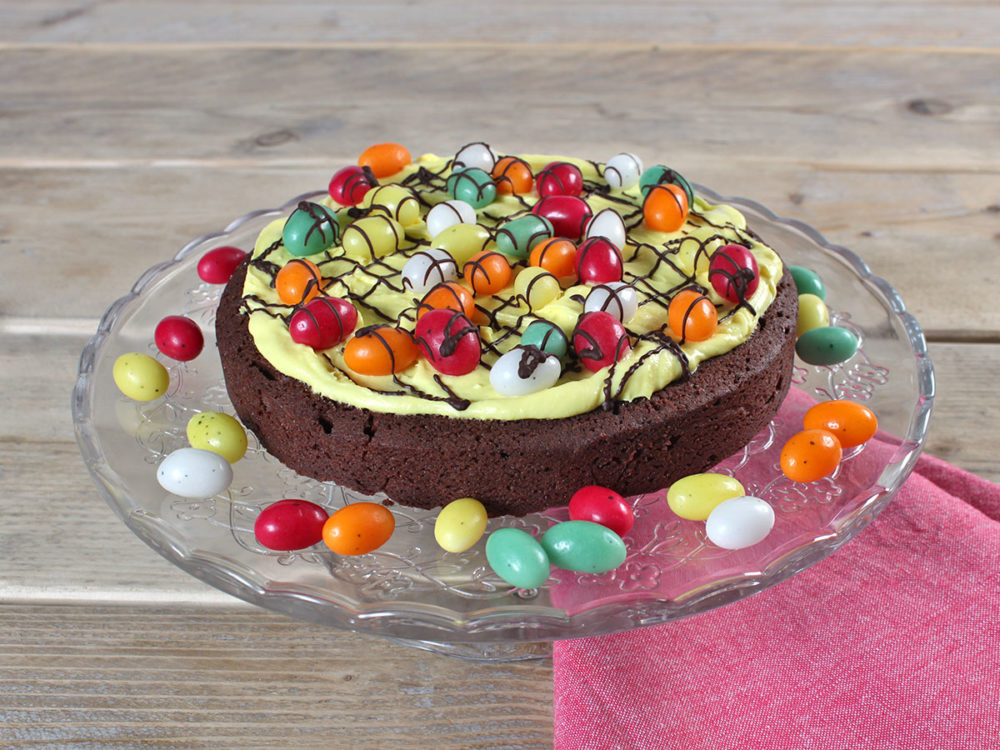 Easter brownie
Brownie with buttercream may not seem like the most obvious combination, but it is very tasty. The combination makes this delicious brownie even more fudy and together with the Easter eggs it is the perfect eye cather during your Easter brunch.
What you need to make your easter brownie:
Ingredients
360 g FunCakes Mix for Brownies
100 g FunCakes Mix for Buttercream
FunCakes FunColours Paste – Yellow
30 g FunCakes Chocolate Melts Dark
175 ml water
165 g ongezouten roomboter
2 eggs (approx. 100 g)
Egg licquer
Candy Easter eggs
Necessities
FunCakes Decorating Bags
Wilton Decorator Preferred® Deep Baking Pan Round Ø 20x7,5cm
Wilton Cooling grid
Preheat the oven to 175°C (convection oven 160°C).
Prepare 360 grams of FunCakes Mix for Brownies as indicated on the package. Grease the baking pan with baking spray and cover with parchment paper. Bake the brownie in approx. 40 minutes. Let the brownie cool down completely on a cooling grid.
Prepare 100 grams of FunCakes Mix for Buttercream as indicated on the package and add egg liquer to taste. Colour the buttercream using yellow colour paste. Apply a layer of buttercream on the brownie and decorate with Easter eggs.
Melt 30 grams of chocolate melts at maximum power (± 800 W) in the microwave. To evenly spread the temperature, remove the chocolate every 15 – 20 seconds and stir well. Stop heating when the chocolate is almost completely melted (small bits of chocolate can still be seen). Keep stirring until the chocolate is dissolved. Fill a decorating bag with the melted chocolate. Cut off the tip of the decorating bag and drizzle the chocolate over the brownie in zigzag movement.
Just a little while before you can enjoy your brownies. Don't forget to share your creation:
#funcakesbyme