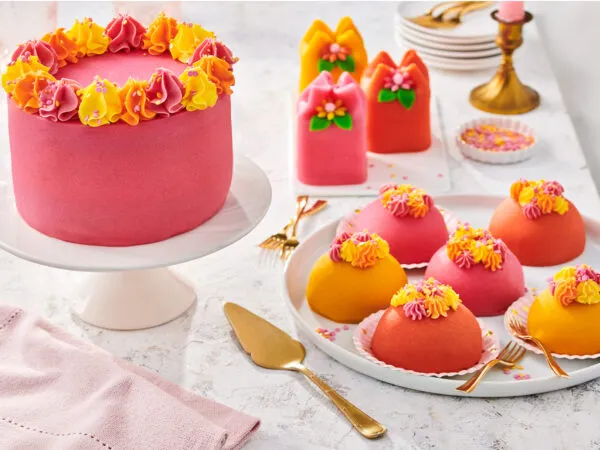 Dutch Castles for the spring
The classic marzipan cake with fruit and a delicious whipped cream filling. Delicious as a pastry, you still leave a place for that, right?
1 hour and 20 min. preparing
What you need to make your dutch castles for the spring:
Ingredients
250 g FunCakes Mix for Sponge Cake Deluxe
200 g FunCakes Mix for Buttercream
FunCakes Whipped Cream Stabilizer
750 g FunCakes Marzipan Pink
FunColours Gel Pink
FunColours Gel Yellow
FunColours Gel Orange
FunCakes Confetti Metallic Pink
FunCakes Mini Stars Yellow
FunCakes Nonpareils Yellow
FunCakes Nonpareils Dark Pink
250 g unsalted butter
250 g whipped cream
225 ml water
4 eggs (approx. 200 g)
Strawberries
Blueberries
Necessities
FunCakes decorating bags
FunCakes Bake Release Spray
3x Wilton Tip #1M Open Star
Wilton Tip #012 Round
Wilton Decorator Preferred® Deep Baking Pan Round Ø 20x7,5cm
Wilton cooling grid
Wilton Rolling Pin 50cm
Wilton Cake leveler 25cm
Preheat the oven to 180°C (convection oven 160°C).
Prepare 250 g FunCakes Mix for Sponge Cake Deluxe as indication on the package, mix this into a greased baking pan and bake the sponge cake in a preheated oven for about 30-35 minutes. Let the cake cool down by using a cooling grid.
Prepare 200 g FunCakes Mix for Buttercream as indicated on the package. Beat the whipped cream stiff with FunCakes Whipped Cream Stiffener and cut the fruit into pieces.
Cut the sponge cake twice with the cake saw and put some buttercream in a decorating bag with tip # 012. Pipe 2 dikes on top of each other with the buttercream and fill the void with whipped cream and pieces of fresh fruit. Cover the entire outside of the cake with buttercream and let it stiffen in the fridge.
Knead the marzipan smoothly on your work surface and roll it out to a thickness of about 2-3 mm. Cover your cake with this. You can choose to cover the cake in one go, but you can also do the side first and then the top.
Divide the remaining buttercream into three portions and color with the pink, yellow and orange coloring gel. Put this separately in three different decorating bags with # 1M and pipe swirls alternately on the cake. Mix some of the colored musket seeds and the other litters and sprinkle this on the tufts.
Just a little while before you can enjoy your pastries. Don't forget to share your creation:
#funcakesbyme