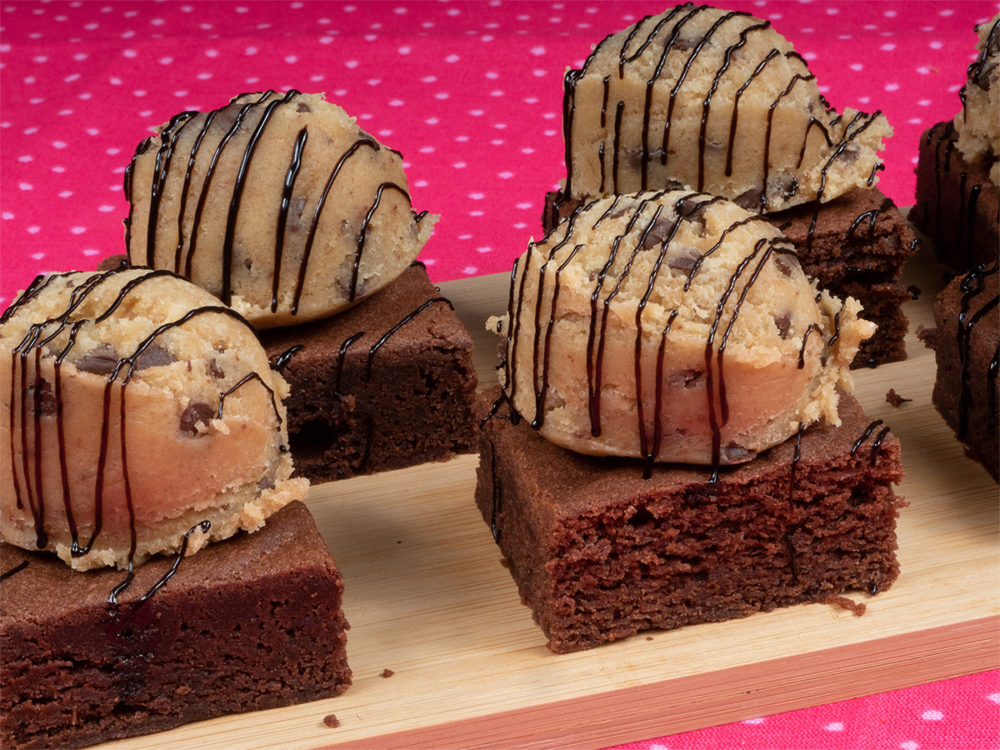 Cookie dough brownie
Who doesn't know that moment when half of the dough has already been eaten before it reached the baking pan? We are very familiar with this struggle and that's why we've created this cookie dough recipe with brownie. This way we can eat the dough without having to make a whole new load of dough for our baking creations.
What you need to make your cookie dough brownie:
Ingredients
500 g FunCakes Mix for American Brownie
250 g FunCakes Mix for Cookies
FunCakes Glaze Topping - Choco
100 g FunCakes Chocolate Drops - Dark
1 tsp Wilton Clear Vanilla Extract
350 g unsalted butter
120 g light brown caster sugar
3 eggs (approx. 150 g)
2 tbsp milk
Pinch of salt
Necessities
FunCakes Bake Release Spray
FunCakes Decorating Bags
Wilton Recipe Right® Square Pan 20 x 20cm
Wilton Parchment Paper
Ice-cream spoon
Preheat the oven to 160°C (convection oven 140°C).
Prepare 500 grams of FunCakes Mix for American Brownie as indicated on the package. Place a piece of parchment paper on the bottom of the baking pan and grease the edges of the pan with baking spray. Spoon the batter into the pan and bake the brownie for about 35 minutes.
Tip! The brownie is supposed to be a bit wet and fudgy inside right after baking. This will set if you put the brownie including the baking pan in the fridge for at least two hours.
Put 100 grams of soft butter, 120 grams of caster sugar, 250 grams of FunCakes Mix for Cookies, a pinch of salt, 1 teaspoon vanilla extract, 2 tablespoons of milk and 100 grams of chocolate drops in a mixing bowl and mix this into a dough.
Tip! If you feel the dough is too dry, add another tablespoon of milk. Please be aware that this dough is not suitable for baking!
Cut the brownie into squares and spoon a scoop of cookie dough onto the brownie with an ice-cream scoop. Put some chocolate glaze topping in a decorating bag, cut of a very small tip and drizzle this over the  cookie dough.
Tip! If you have any leftover cookie dough you can use it as a filling between a cake or mix little pieces into an ice cream made with the FunCakes Mix for Ice cream.
Just a little while before you can enjoy your brownies. Don't forget to share your creation:
#funcakesbyme