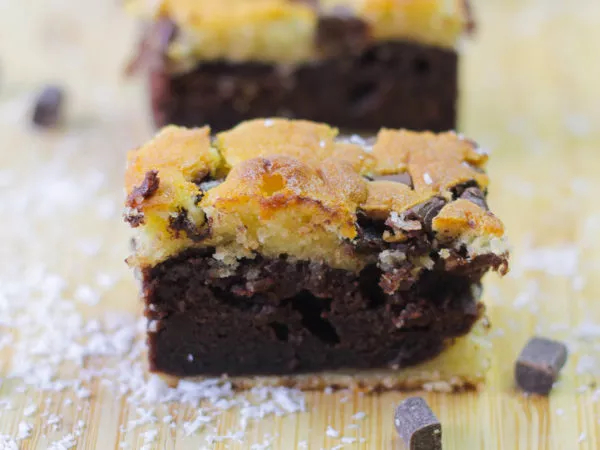 Coconut brownie crumble cake
This delicious brownie cake is perfect for those who cannot choose between cake and brownie, but the best thing is that we used coconut in the recipe. That makes this cake unique and also very tasty.
What you need to make your coconut brownie crumble cake:
Ingredients
500 g FunCakes Mix for Cupcakes
360 g FunCakes Mix for Brownies
150 g FunCakes Chocolate Chunks Dark
FunCakes Flavour Paste -Coconut-
290 g unsalted butter
75 ml water
7 eggs (approx. 350 g)
Necessities
FunCakes Bake Release Spray
Wilton Recipe Right® Square Pan 20 x 20 cm
Wilton Cooling Grid
Preheat the oven to 175°C (convection oven 160°C).
Prepare 360 grams of FunCakes Mix for Cupcakes as indicated on the package and add coconut flavour paste to taste. Grease the baking pan using baking spray and divide half of the batter into the baking pan.
Prepare 500 grams of FunCakes Mix for Brownies as indicated on the package. Whisk the batter into the baking pan, on top of the cupcake batter and whisk the other half of the cupcake batter on top of the brownie batter. Divide 150 grams of chocolate chunks over the top layer and bake the cake in approx. 50 minutes. Let the cake cool down after baking on a cooling grid.
Just a little while before you can enjoy your brownies. Don't forget to share your creation:
#funcakesbyme