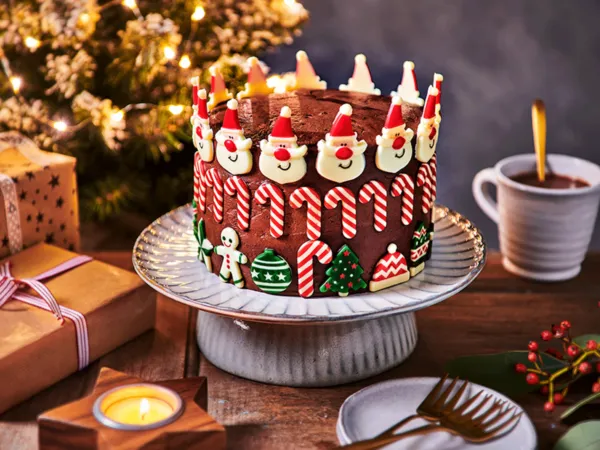 Chocolate Christmas cake
Ready to dive into a world of chocolate delight? Our Chocolate Christmas Cake is the perfect holiday treat, dressed up with our brand-new Chocolade Decorations. Get ready for a delicious adventure that's all about the joy of baking and the magic of the season.
1 hour and 30 min. preparing
What you need to make your chocolate christmas cake:
Ingredients
150 g FunCakes Mix for Choco Sponge Cake
200 g FunCakes Mix for Buttercream
FunCakes Chocolate Decorations Candy Cane
FunCakes Chocolate Decorations Xmas Figurines
FunCakes Chocolate Decorations Santa
FunCakes Bake Release Spray
Van Houten Rich Deep Brown Cocoa Powder
250 g unsalted butter
230 ml water
2 eggs (approx. 100 g)
Necessities
Wilton Decorator Preferred® Deep Round Baking Pan Ø 15x7,5 cm
Wilton Cake Leveler 25cm
Wilton Basic Turntable
Wilton Cooling Grid
Wilton Comfort Grip Spatela Angled 22,5 cm
Wilton Parchment Paper
PME Scraper
Preheat the oven to 180°C (convection oven 160°C) and grease the baking pan with FunCakes Bake Release Spray.
Prepare 150 g FunCakes Mix for Choco Sponge Cake as indicated on the package. Spoon the choco cake batter into the baking pan and bake the cake for about 30-35 minutes until done. After baking, Let the cake cool down by using a cooling grid.
Prepare 200 g FunCakes Mix for Buttercream as indicated on the package. Sift 2-3 tablespoons of cocoa powder over the buttercream and mix well until you have a nice chocolate buttercream. Of course, you can also add the cocoa powder as you see fit.
Cut the cake with the cake leveler 2 or 3 times and fill and spread all around with the chocolate buttercream. Let this set in the refrigerator and then spread the cake for a second time. Let this also set in the refrigerator.
Decorate the cake nicely with the FunCakes Christmas Chocolate Decorations.
Just a little while before you can enjoy your cakes. Don't forget to share your creation:
#funcakesbyme