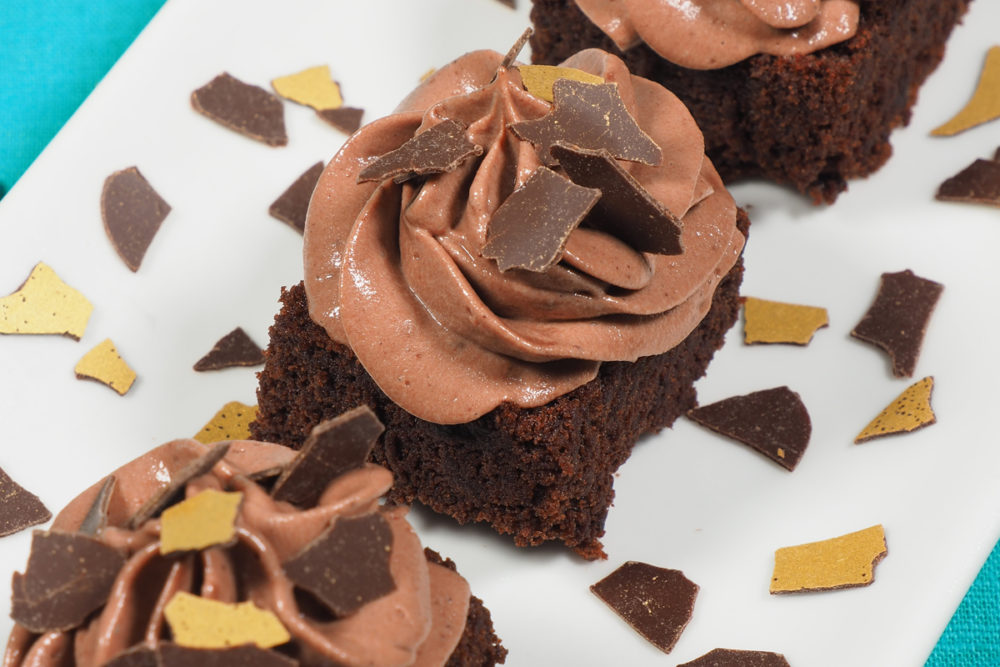 Brownies with Chocolate Enchanted Cream®
There is actually nothing better than chocolate and that is why we came up with this delicious recipe with more than enough chocolate. These chocolate kisses consist of brownies and choco cream, in other words double chocolate and double deliciousness.
What you need to make your brownies with chocolate enchanted cream®:
Ingredients
360 g FunCakes Mix for Brownies
100 g FunCakes Mix for Enchanted Cream® Choco
FunCakes Chocolate Crispy Pearls -Mix-
100 ml milk
175 ml water
2 eggs (approx. 90 g)
40 g unsalted butter
Necessities
FunCakes Decorating Bags
FunCakes Bake Release Spray
Wilton Covered Brownie Pan Square 22,5 x 22,5 cm
Wilton Decorating Tip #1M
Wilton Cooling Grid
Wilton Parchment Paper
Preheat the oven to 175°C (convection oven 160°C).
Prepare 360 gram FunCakes Mix for Brownies as indicated on the package. Grease the brownie pan using baking spray and cover with parchment paper. Fill the brownie pan with the batter and bake the brownie in the middle of the preheated oven in 40 – 45 minuten. Let it cool down on a cooling grid.
Mix 150 gram FunCakes Mix for Enchanted Cream® as indicated on the package. Cut the brownie into square pieces. Put decorating tip #1M in the decorating bag and fill with the enchanted cream. Pipe some swirls on top of the brownies and sprinkle with crispy pearls.
Just a little while before you can enjoy your brownies. Don't forget to share your creation:
#funcakesbyme