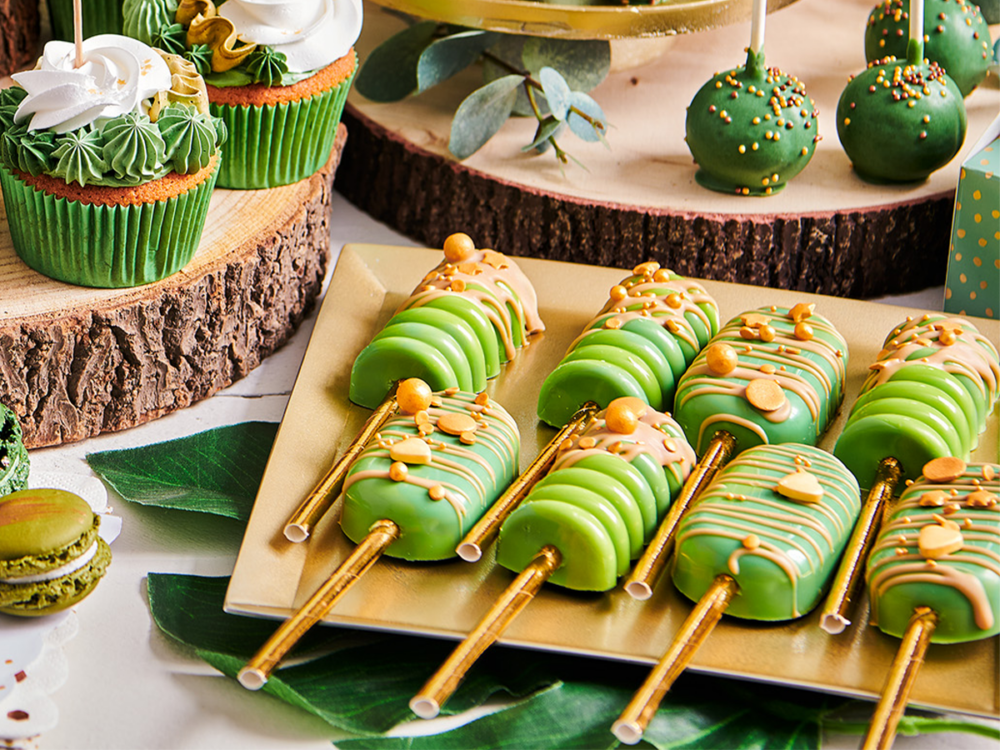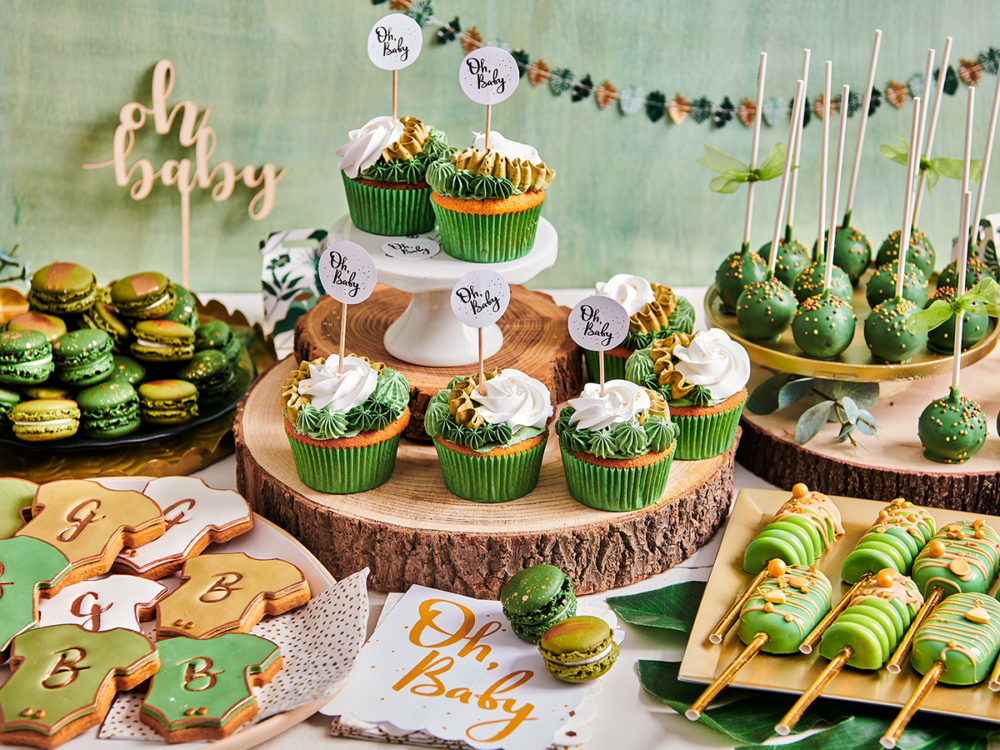 Botanical cakesicles
These golden botanical cakesicles are really perfect for a baby shower sweettable and not just for that. Cakesicles are really trendy and can certainly not be missed at any party!
1 hour and 45 min. preparing
What you need to make your botanical cakesicles:
Ingredients
640 g FunCakes Mix for Cake Brownie
150 g FunCakes Chocolate Melts Dark
250 g FunCakes Deco Melts Green
250 g FunCakes Deco Melts Lime Green
150 g FunCakes Deco Melts White
100 g FunCakes Deco Melts Toffee Flavour
FunCakes Sprinkle Medley Gold Deluxe
135 ml water
70 g unsalted butter
3 eggs (approx. 150 g)
Necessities
FunCakes Decorating Bags
FunCakes Bake Release Spray
Wilton Recipe Right® Squared baking pan 20x20 cm
Wilton Cooling Grid
Wilton Parchment paper
Wilton Decorating Brushes
Silikomart Ice mold Mini Tango
Silikomart Silicone Ice Mold Classic Mini
PartyDeco Straws Gold
Preheat the oven to 180°C (convection oven 160°C).
Prepare 640 g FunCakes Mix for Cake Brownie as directed on the package. Place a suitable piece of parchment paper on the bottom of the baking pan and grease the baking pan with Bake Release Spray. Spoon the batter into the baking pan and bake the brownie for about 45-50 minutes. Let the cake cool using a cooling grid.
Crumble the brownie and melt some Chocolate Melts Dark au bain-marie or in the microwave at 450W (max. 500W). Stir the melts well every 15-20 seconds. Stop heating once the melts are almost completely melted (small pieces still visible). Keep stirring until it is completely smooth. Mix the melted chocolate melts dark with the cake until you have a nice firm dough that you can knead.
Melt the 250 g FunCakes Deco Melts Green with some FunCakes Deco Melts White as described above to get a slightly lighter green color. Also melt the 250 g FunCakes Deco Melts Lime Green according to the instructions above.
Spread the two colors of green FunCakes Deco Melts in the ice cream molds with a brush and let it stiffen in the fridge. Repeat this 2 to 3 times.
Put some of the brownie dough in the molds that you have coated with Deco Melts and press down lightly. Make sure nothing sticks out above the edge. Cover with a layer of melted FunCakes Deco Melts and insert a golden straw. Let them set well in the fridge and carefully remove them from the mold after about half an hour of cooling.
Melt the FunCakes Deco Melts Toffee flavor according to the instructions above and put it in a decorating bag. Cut a small tip from the decorating bag and drizzle the melts over the cakesicles. Decorate immediately with the Sprinkle Medley Gold Deluxe.
Just a little while before you can enjoy your pops. Don't forget to share your creation:
#funcakesbyme