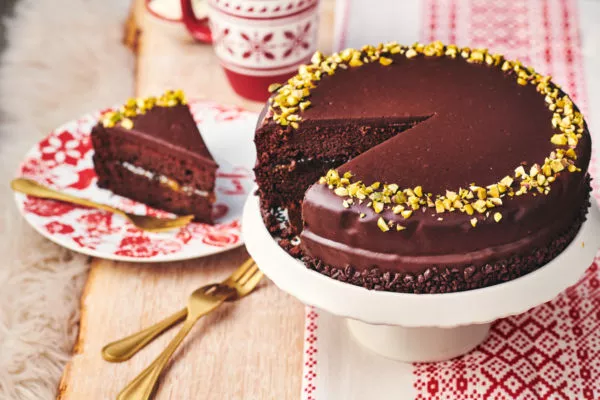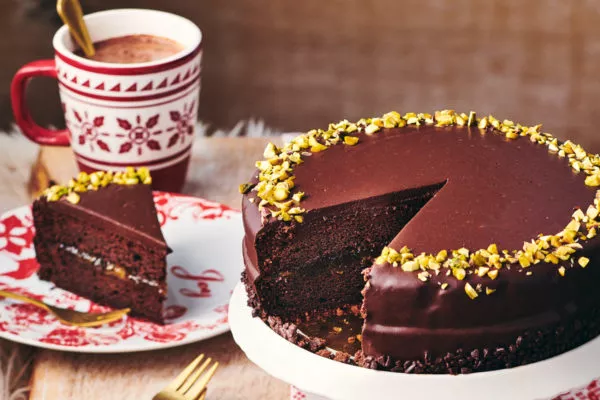 Austrian Sachertorte
Sachtertorte is a famous cake from Vienna and consists out of chocolate cake, filled with apricot marmalade and covered with a thick layer of chocolate glaze. The original recipe however is secret and is kept in Haus Sacher, but this recipe comes so close that you would almost think it is the original.
What you need to make your austrian sachertorte:
Ingredients
400 g FunCakes Mix for Dark Choco Cake
200 g FunCakes Mix for Chocolate Ganache
FunCakes Mini Chocolate Rocks -Dark-
180 g unsalted butter (soft)
105 ml water
4 eggs (approx. 200 g)
Pot apricot jam
unsalted pistachio nuts (finely chopped)
Necessities
FunCakes Bake Release Spray
FunCakes Cake Board Round Ø15cm
Wilton Decorator Preferred Spatula Angled
Wilton Chrome-Plated Cooling Grid
Wilton Cake Leveler
Wilton Decorator Preferred® Deep Round Pan Ø 20x7,5cm
Glass bowls
Preheat the oven to 150°C (convection oven 120°C).
Prepare 400 grams of FunCakes Mix for Dark Choco Cake as indicated on the package. Grease the baking pan using the bake release spray and divide the batter. Bake the cake in the middle of the oven for 50 – 60 minutes. Allow to cool in the baking pan for 10 minutes before pouring it on the cooling grid.
Cut the cake once using a cake leveler. Apply a layer of apricot jam on the first layer and place the second layer on top.
Prepare 200 grams of FunCakes Mix for Chocolate Ganache as indicated on the package. Place the cake on the cake board. Place the cooling grid on the baking tray, place the bowl on the cooling grid and place the cake on top. Pour the ganache over the cake and make sure the ganache glides over the edge. You can ensure this by using the spatula. Let the ganache drain and scrape the bottom edge of the cake with a spatula to get rid of any leftovers.
Lift the cake gently and push some chocolate rocks along the egde of the cake. Sprinkle the chopped pistachio nuts in a circle on top and let the cake stiffen in the frigde.
Just a little while before you can enjoy your cakes. Don't forget to share your creation:
#funcakesbyme