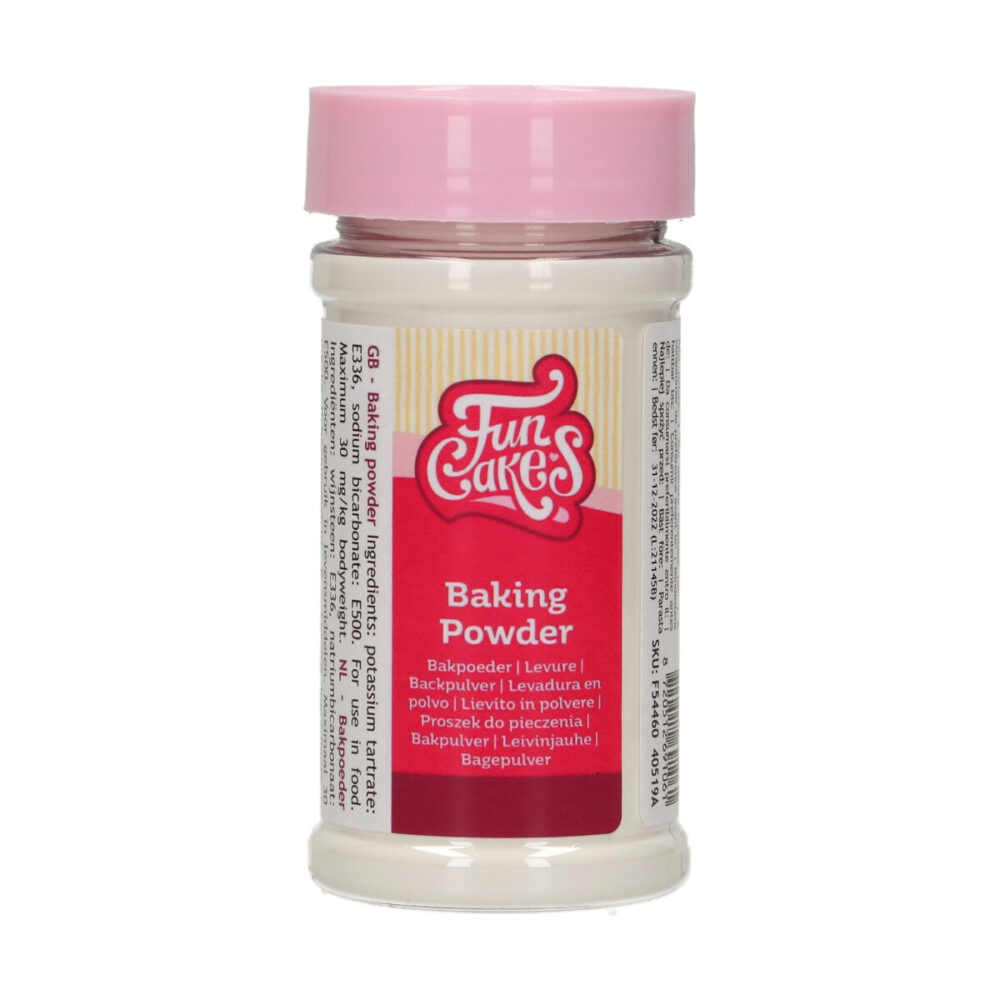 Baking Powder
Do you like baking from scratch? Then baking powder is a must-have in your kitchen shelf. FunCakes baking powder consists of the right combination of baking soda and cream of tartar and is used as a leavening agent in many baking and cooking recipes. You can also make your own self-rising flour with baking powder. Scroll down to read more about this.
Potassium tartrate (E336), sodium bicarbonate (E500).
Store in a cool, dry place, 12-20°C.
Nutritional values per 100 g
| | |
| --- | --- |
| Energy | 717 kJ / 171 kcal |
| Fat | 0 g |
| of which saturated | 0 g |
| Carbohydrate | 41,3 g |
| of which sugar | 0 g |
| Protein | 0 g |
| Salt | 23 g |
To make self-raising flour: mix 2 teaspoons of baking powder (8 g) with 250 g of flour and a bit of salt to taste.
Baking powder or baking soda, what's the difference?
The difference between baking powder and the alternative baking soda is the presence of acid. Baking soda doesn't contain an acid, while baking powder does. To make cakes rise with baking soda, an acidic ingredient will always have to be incorporated into the recipe. This is not the case with baking powder. That's why you'll often find baking soda in recipes that already contain an acidic ingredient, such as lemon tarts (lemon) or chocolate cakes (cocoa). Recipes that do not contain an acidic ingredient are more likely to use baking powder to help the pastry rise.
Can I replace baking soda by baking powder?
Yes, you can substitute the two by one another. Just keep in mind that baking soda has a stronger effect than baking powder, and also needs an acidic ingredient. So if you replace baking soda with baking powder, then always add more than you would add baking soda. When exchanging baking powder and baking soda, the following rule applies: 1 teaspoon of baking soda equals 3 teaspoons of baking powder. Also, pay attention to whether the ingredient list contains an extra acidic ingredient, which may become unnecessary if you use baking powder instead of baking soda.