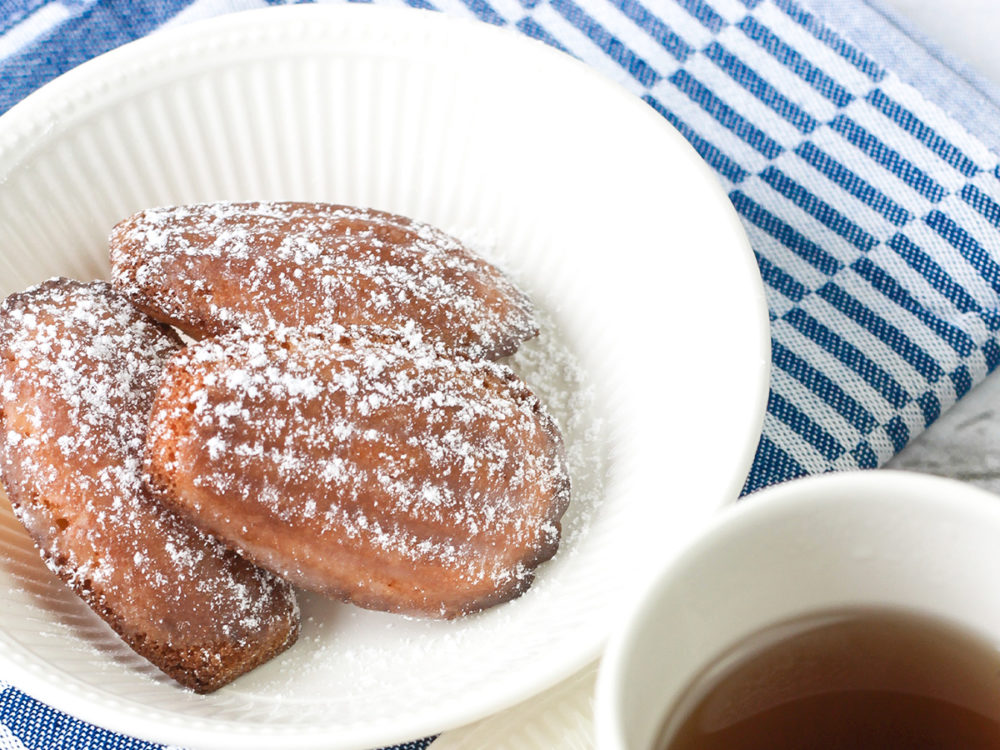 Madeleines filled with lemon glaze
Madeleines are actually small cakes in the shape of scallops. It is a typical French pastry and delicious with tea or a cup of coffee.
1 hour and 30 min. preparing
What you need to make your madeleines filled with lemon glaze:
Ingredients
150 gram FunCakes Icing Sugar
1 tbsp FunCakes Baking Powder
175 g FunCakes Pastry Flour Deluxe
130 g unsalted butter
120 g granulated sugar
3 eggs (approx. 150 g)
2 lemons (zest)
2 tbsp lemon juice
1 egg yolk
Pinch of salt
Necessities
FunCakes Decorating Bags
FunCakes Bake Release Spray
Madeleine baking pan
Melt 130 grams of butter in a small saucepan on a medium heat until it starts to turn golden brown. Set aside to cool.
Grease a madeleine baking pan with baking spray, dust with flower and place in the fridge. Mix 3 eggs, 1 egg yolk, 120 grams of sugar and a pinch of salt for 5 minutes until frothy and the batter starts to thicken. Whisk 175 grams of flour and 1 tablespoon of baking powder through the batter.
Grate 2 lemons and add the lemon zest to the cooled butter. Slowly drizzle the butter into the batter, stirring the mixture until you have folded in all of the butter. Cover the bowl and place in the fridge for at least 1,5 hours.
Preheat the oven to 220°C (convection oven 200°C).
Put the batter into a decorating bag and fill each mould until about three-quarters full. Bake for 8 – 9 minutes in the oven until the tops slightly browns. Let the madeleines cool down on a cooling grid.
Mix 150 grams of icing sugar with 2 tablespoons of lemon juice. Apply the glaze with a pastry brush, turning them over to make sure both sides are coated. Leave on the rack until the glaze has set.
Just a little while before you can enjoy your cookies. Don't forget to share your creation:
#funcakesbyme