The sweet 16 birthday parties as we know it from tv are extravagant parties that are probably the most popular in the US. But your 16th birthday party is a milestone event that is meant to be memorable! Therefore let's celebrate your Sweet 16 in your own way. It doesn't matter if it's big or if it's intimate. One thing is for sure: there has to be cake!
Cutting the birthday cake is a big part of the Sweet 16 party. With FunCakes you can make the coolest cake, both for boys and girls. On this page you will find everything you need: the tastiest recipes, nicest products and handy tips & tricks. Got inspired and ready to get started? Check our points of sale to get your products right away.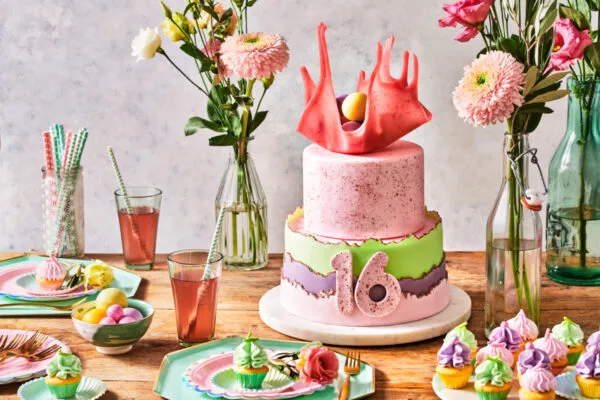 Featured recipe
Pink sweet 16 cake with isomalt topper
When you're turning 16, you should have a sweet 16 party to celebrate. Make this pink sweet 16 cake to make your party complete. Happy birthday!
Make the numbers 16 a day or two in advance.
Heat the isomalt and colour it with the pink colour dust. Pour the isomalt out over the silicone work mat and leave it for a while. Then hang it over a vase and let it dry.
Preheat the oven to 175°C (160°C convection air).
Prepare the Mix for Sponge Cake Deluxe as indicated on the package and dive it between the 2 baking pans. Bake for about 30-35 minutes and let it cool.
Prepare the Buttercream as indicated on the package and flavour it with the raspbery flavour paste.
Knead the sugar paste well, roll it out and cover the top of the 20 cm cake and cover the entire 15 cm cake.
Click on the button below to find the complete recipe with all ingredients and baking times.
Featured product
The perfect base of your cake
Making a good cake starts with the baking mix you use. FunCakes has several fine baking mixes that you can use as a base for your cake. The most well-known baking mix is probably the FunCakes Mix for Sponge Cake Deluxe. This mix is delicious on its own, but you can also spice it up with a flavour paste. Not sure what to do? Then this mix is always right for you. If you love chocolate, the FunCakes Mix for Choco Sponge Cake is also a delicious base for your cake. But you should also think of the FunCakes Mix for Red Velvet Cake. FunCakes has enough choice to make a tasty base for your Sweet 16 cake!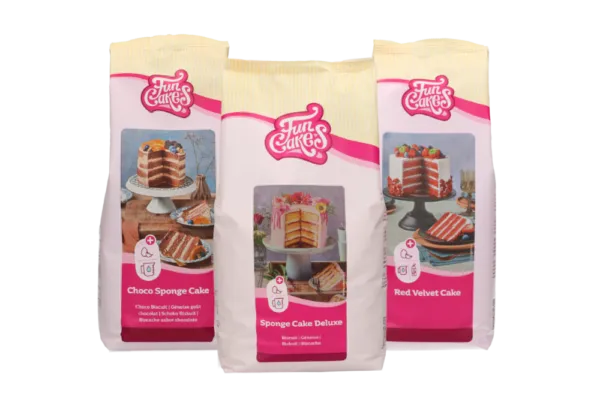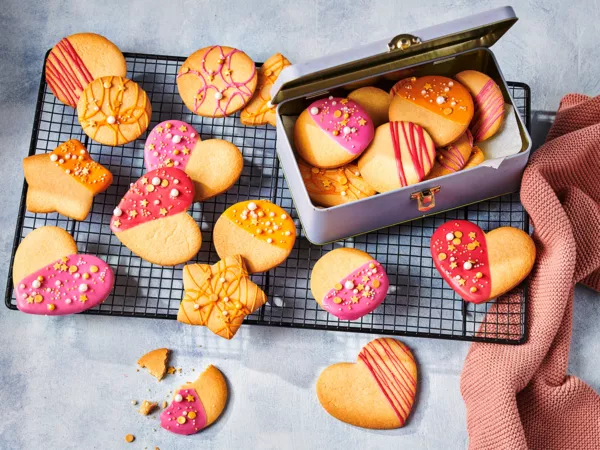 Make quick and easy treats with Deco Melts
Besides an amazing Sweet 16 birthday cake, the sweet table must have some other treats right? With the FunCakes Deco Melts it's a piece of cake 😉! Make cake pops and dip them in Deco Melts. You can also bake some cookies and dip them in the Deco Melts. No time for baking? Get some oreo's or some of your favourite cookies. You can also use the Deco Melts to make little candy hearts. Want to know more tips? Click on the button to read the blog.
Shop FunCakes
Did you get inspired and ready to get started? You can easily shop the products at a store nearby or online at one of the many web shops. Find a point of sale via the button below!