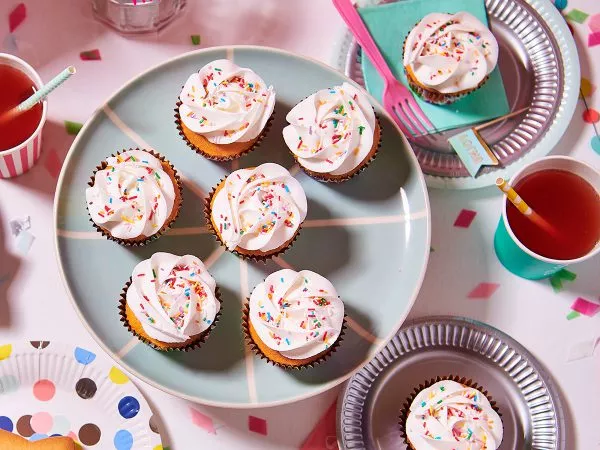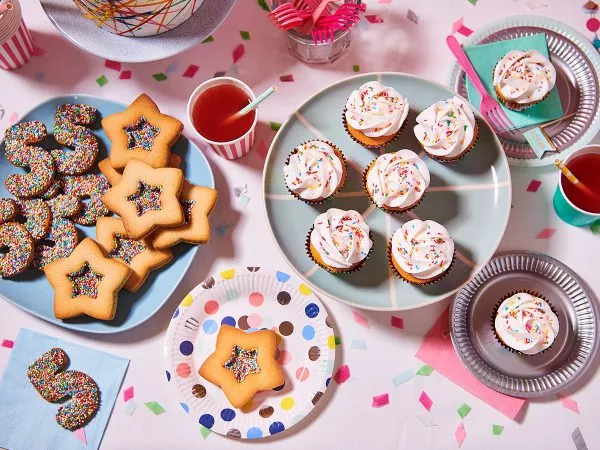 Birthday cupcakes
Happy birthday to you! It's your birthday and that must be celebrated. We don't know any better way to do that than with these birthday cupcakes.
What you need to make your birthday cupcakes:
Ingredients
500 g FunCakes Mix for Cupcakes
150 g FunCakes Mix for Enchanted Cream®
FunCakes Flavour Paste -Peppermint-
FunCakes Sugar Strands -Colour Mix-
5 eggs (approx. 250 g)
250 g unsalted butter
200 ml milk
Necessities
FunCakes Disposable Decorating Bags
Wilton Recipe Right® Muffin Pan
Wilton ColorCups Rainbow Paint
Wilton Decorating Tip #1M Open Star Carded
Wilton Chrome-Plated Cooling Grid
Preheat the oven to 180°C (convection oven 160°C).
Prepare 500 grams of FunCakes Mix for Cupcakes as indicated on the package. Place the baking cups in the muffin pan and divide the batter into the baking cups to half fill the cups. Bake the cakes for 18-20 minutes until golden yellow and take them out of the muffin pan. Let them cool down completely on the kitchen counter.
Prepare 150 grams of FunCakes Enchanted Cream® mix as described on the package and add flavour to taste with peppermint paste. Place tip #1M in the decorating bag and fill the bag with the cream.
Pipe beautiful rosettes on the cupcakes and sprinkle sugar strands over the cakes.
Just a little while before you can enjoy your cupcakes. Don't forget to share your creation:
#funcakesbyme