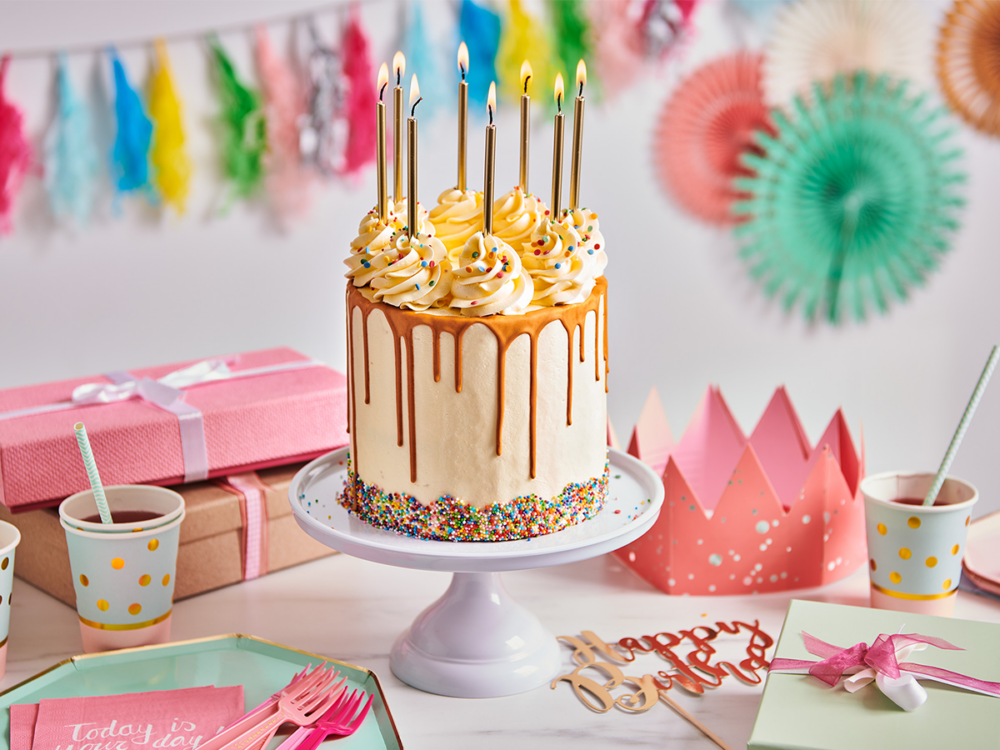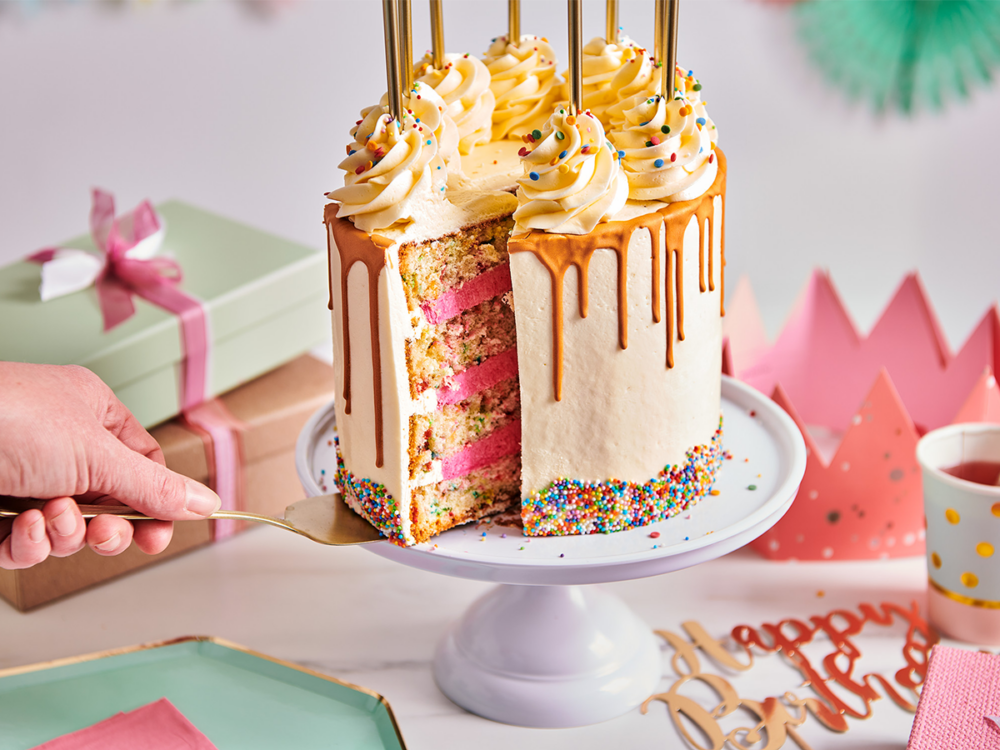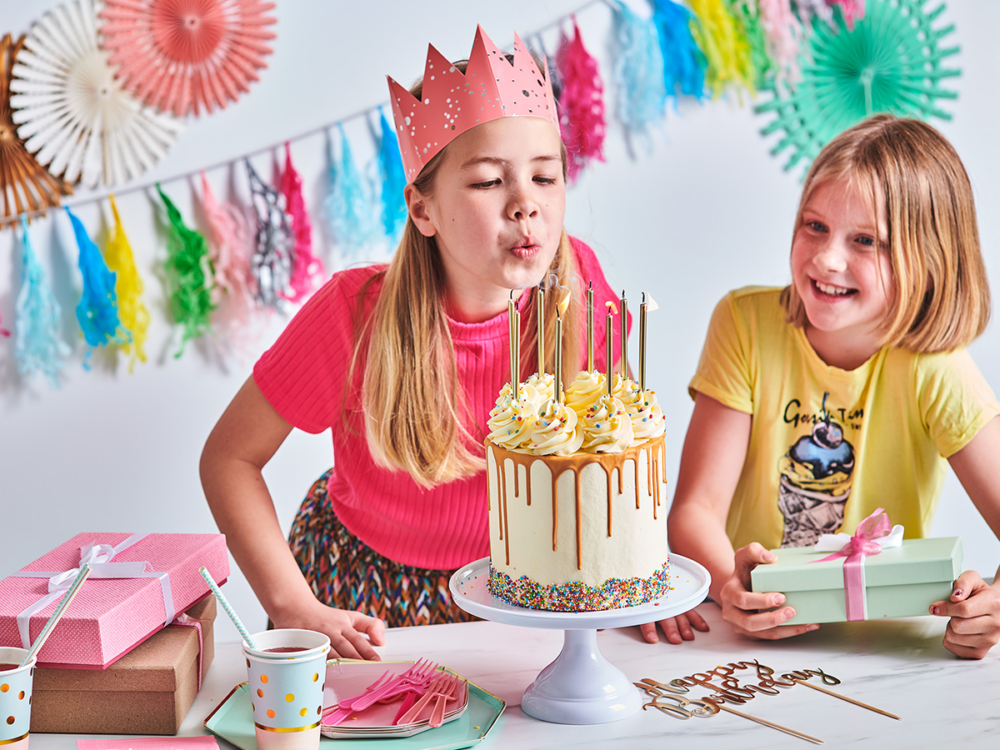 Birthday Drip Cake
Making a birthday drip cake is so much fun! There are so many opportunities to prepare a drip cake for. For example, surprise someone with this cake for their birthday.
1 hour and 30 min. preparing
What you need to make your birthday drip cake:
Ingredients
400 g FunCakes Mix for Sponge Cake Deluxe
400 g FunCakes Mix for Buttercream
FunCakes Flavour Paste Zesty Strawberry
FunColours Gel Pink
FunCakes Nonpareils Discomix
FunCakes Mini Confetti Mix
FunCakes Choco Drip Gold
500 g unsalted butter
440 ml water
6 eggs (approx. 300 g)
Necessities
FunCakes Bake Release Spray
FunCakes Decorating Bags
FunCakes Cake Drum Round Ø20cm
Wilton Parchment Paper
2 x Wilton Decorator Preferred® Deep Round Baking Pan Ø 15x7,5cm
Wilton Cooling Grid
Wilton Basic Turn Table
Wilton Decorator Preferred Spatula Angled 22,5 cm
Wilton Cake leveler 25cm
Wilton Tip #012 Round
Wilton Tip #1M Open Star
PME Extra Long Candles Gold 18cm
PME Long Plastic Scraper
Preheat the oven to 180 °C (convection oven 160 °C).
Prepare 400 g of FunCakes Mix for Sponge Cake Deluxe according to the instructions on the package. Mix almost the entire jar of FunCakes Nonpareils Discomix and FunCakes Mini Confetti Mix with the cake mix. Keep some for decoration on the cake. Raise the baking pans with parchment paper and grease them with FunCakes Bake Release Spray. Bake the sponge cakes for about 30-35 minutes. Let them cool down by using a cooling grid.
Prepare 400 g of FunCakes Mix for Buttercream according to the instructions on the package. Take a few large tablespoons from the buttercream and season it with the FunCakes Flavor Paste Zesty Strawberry and color it with the FunCakes Edible Colorant Gel Pink.
Put some white buttercream in a decorating bag with tip #012. Cut the biscuits twice with the cake leveler. Put the cake on the drum and put it on the turntable. Spray a dike with the white buttercream on each layer and fill with the strawberry buttercream.
Stack the layers on top of each other and cover the outside thinly with a layer of buttercream, use the side scraper here. Let the cake stiffen in the fridge for half an hour. After this, cover the cake for the second time with a thick layer of white buttercream and pull it nice and tight with the side scra-per. Let it stiffen again in the refrigerator for half an hour. Put the remaining clear butter cream in a decorating bag with #1M.
Melt the FunCakes Choco Drip Gold as indicated on the bottle in the microwave and let the drip slide down the cake. Decorate the bottom of the cake with some FunCakes Musket seed Discomix and pipe the white buttercream with # 1M nice generous tufts on top of the cake. Sprinkle some FunCakes Musketzaad Discomix and FunCakes Mini Confetti Mix on top. Put the candles in the tufts.
Just a little while before you can enjoy your cakes. Don't forget to share your creation:
#funcakesbyme