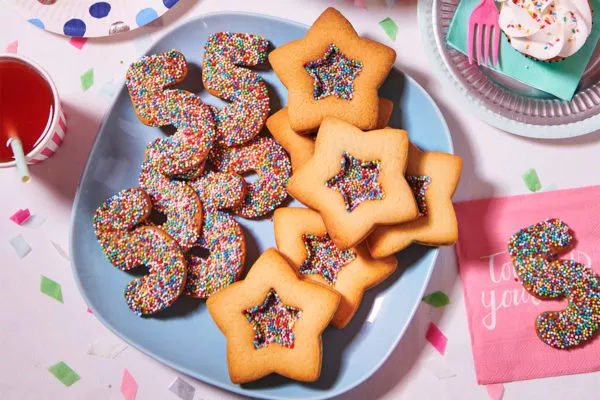 Birthday cookies
Want to try something other than a birhtday cake this year? Why don't you try these birthday cookies! Just as delicious and easy to hand out as a treat. Happy birthday!
What you need to make your birthday cookies:
Ingredients
500 g FunCakes Mix for Cookies
225 g FunCakes Mix for Royal Icing
FunCakes Nonpareils – Discomix
FunCakes Edible FunColours Gel – Bright Green
150 g soft unsalted butter
27 ml water
1 egg (approx. 50 g)
Flour
Necessities
FunCakes Disposable Decorating Bags 30 cm
FunCakes Piping Gel
Wilton A-B-C and 1-2-3 Cutter Set/50
Wilton Parchment Paper
Wilton -Wide Glide- Rolling Pin
Wilton Decorating Tip #005 Round
Cookie Cutter Star 9 cm for example from Cookie Cutters.
Cookie Cutter Star 3 cm for example from Cookie Cutters
Brush
Cling film
Prepare 500 g FunCakes Mix for Cookies as indicated on the package. Place the cookie dough wrapped in cling film for one hour in the refrigerator and allow it to stiffen.
Preheat the oven to 180°C (convection oven 160°C).
Take the dough out of the refrigerator and knead it firmly. Roll it out to a thickness of about 2-3 mm on a floured work surface. Cut out stars and numbers with the cookie cutters and place them on a baking tray covered with parchment paper. To make the star cookies as shown in the picture you will need a whole star and a star with a hole in the middle. First you cut out the star with a 9cm star cutter and then you cut out the middle with a 3cm star cutter. Bake the cookies for approx. 10-12 minutes until golden yellow and let them cool down.
Prepare 225 g FunCakes Mix for Royal Icing as indicated on the package and color it green. Place the icing in a decorating bag with tip #5. Sprinkle the Disco Mix in a bowl and brush the cookies in the shape of numbers over with a thin layer of piping gel. Dip the cookies in the disco mix until completely covered and set them aside.
For the star cookies, place a whole star cookie right side up on the table and brush the center with a layer of piping gel. Pipe small tufts of the royal icing along the edge of the cookie and gently press the cookie with the hole in it on top. Coat the cut edges of the hole with a little piping gel and fill it with a scoop of disco mix. Briefly, shake it back and forth and throw the excess back into the bowl.
Just a little while before you can enjoy your cookies. Don't forget to share your creation:
#funcakesbyme