We light those fireworks for a reason, right? New Year's Eve just really is a very special moment for many. Looking back at all that's happened in the past year but mainly, starting that new year fresh and at full speed! A clean sheet, 365 brand new days. A reason to celebrate. With as many bells and whistles as possible if you ask us. So get that golden decorations and shiny metallics to your kitchen counter and make the most of your final treat of the year!
And your New Year's resolution? Never stop baking, right?
With FunCakes you make it a New Year's Eve to remember! On this page you will find everything you need: the tastiest recipes, nicest products and handy tips & tricks.
Got inspired and ready to get started? Check our points of sale to get your products right away.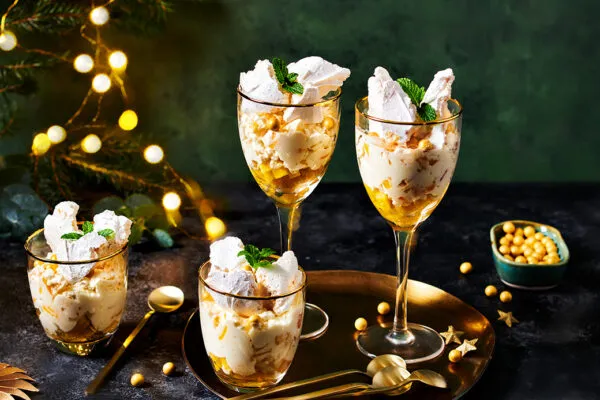 Featured recipe
Eton mess with yellow fruit
Before it's time for your glass of Champagne, enjoy this glass of Eton Mess! Perfect as the dessert of your NYE dinner cause it's light, festive and you can perfectly prepare the dessert ahead so you can enjoy your night to the fullest.
Prepare meringues and break them into pieces.
Cut the yellow fruit of your choice.
Beat whipped cream and fold it through the fruit and chunks of meringue.
Fill the glasses and serve your dessert!
Click on the button below to find the complete recipe with all ingredients and baking times.
Featured product
Metallic Spray
With New Year's Eve we can't sparkle and shine enough. Luckily we have many products in our assortment to make your treats look glamourous and festive. With our metallic sprays you easily give chocolates, sugar paste, cookies and toppings a beautiful shiny layer. Think of a golden layer over your Enchanted Cream® swirls, shiny silver bonbon sweets or a glamourous sugar paste topper on your cake. It's all doable with your favourite colour of spray.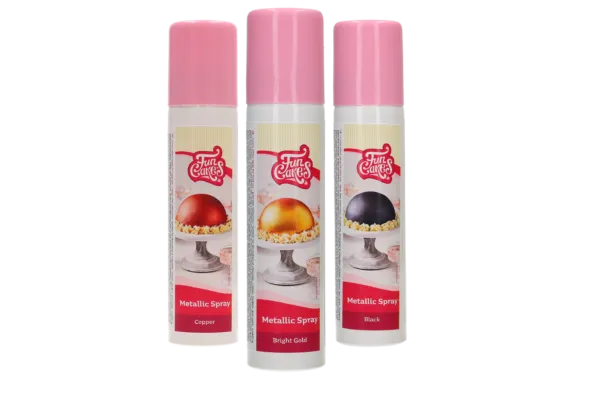 Did you know you can give your wine a nice (coloured) shine by adding our edible Sparkle Dust to it? It's the perfect finishing toast to your New Year's Eve toast. Watch the video to find out how easy it is and choose one of the many colours of sparkle dust.
NYE shopping
Did you get inspired and ready to get started? You can easily shop your New Year's Eve products at a store nearby or online at one of the many web shops. Find a point of sale via the button below!