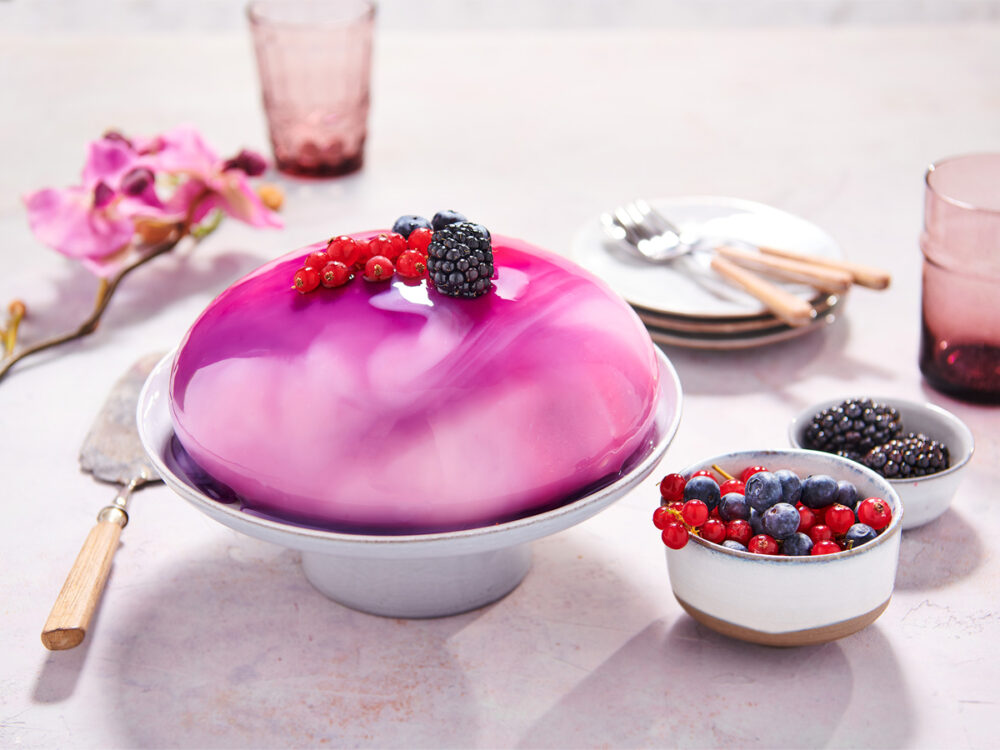 Mirror glaze cake
Do you want to create the most stunning cake ever? With the Mirror Glaze you can create anything you want. Make your cake shine like a star!
What you need to make your mirror glaze cake:
Ingredients
150 g FunCakes Mix for Sponge Cake Deluxe
100 g FunCakes Mix for Bavarois Natural
1 jar FunCakes Mirror Glaze
FunCakes Food Colour Gel Purple
FunCakes Food Colour Gel Pink
FunCakes Food Colour Gel White
500 ml whipped cream
135 ml water
3 eggs (approx. 150 g)
Jam of your choice
Blackberries
Berries
Necessities
FunCakes Cake Cards Silver/Gold Round – 15cm
FunCakes Bake Release Spray
Wilton Cake leveler 25cm
Wilton Cooling Grid
Wilton Decorator Preferred® Deep Round Baking Pan Ø 15x7,5cm
Silikomart Silicone 3D Design Baking Mold – Goccia
Measuring cup with pouring spout
Preheat the oven to 180°C (convection oven 160°C).
Prepare 150 g FunCakes Mix for Sponge Cake Deluxe according to the instructions on the package. Grease the baking pan with Bake Release Spray, fold the batter into the baking pan and bake the cake for about 30-35 minutes. Let the cake cool down by using a cooling grid and cut the cake twice with the cake leveler.
Whip the 500 ml whipping cream into a lump (not quite stiff). Mix the 100 g FunCakes Mix for Bavarois Natural with 120 ml water and fold this directly into the thick whipped cream.
Pour some bavarois into the silicone mold, carefully press a middle slice of biscuit in it and make sure that the edges around the biscuit slice are filled with bavarois, so you have to pour enough bavarois into the mold.
Spread some jam of your choice on the slice of biscuit and fill the mold with the rest of the bavarois. Gently wiggle back and forth to get air bubbles up and cover with a slice of biscuit, use the bottom for this, this has a nice crust. Place the mold in the freezer overnight.
Divide the mirror glaze over 3 bowls and color each bowl with a food colour gel. Remove the bavarois from the freezer and carefully remove it from the mold.
Place the cake on a 15 cm cake board and put it back on an upside-down bowl on the cooling rack. The bavarois should float slightly and not stand on anything.
Stir the mirror glaze once again in the dishes and pour all three together in a measuring cup with a spout. Stir two or three times and pour this over the frozen bavarois. Let it drain well.
After about half an hour you can remove the drips from the bottom edge of the cake with a knife or metal spatula. Place the cake on a serving plate and let it thaw further in the refrigerator.
Just a little while before you can enjoy your cakes. Don't forget to share your creation:
#funcakesbyme