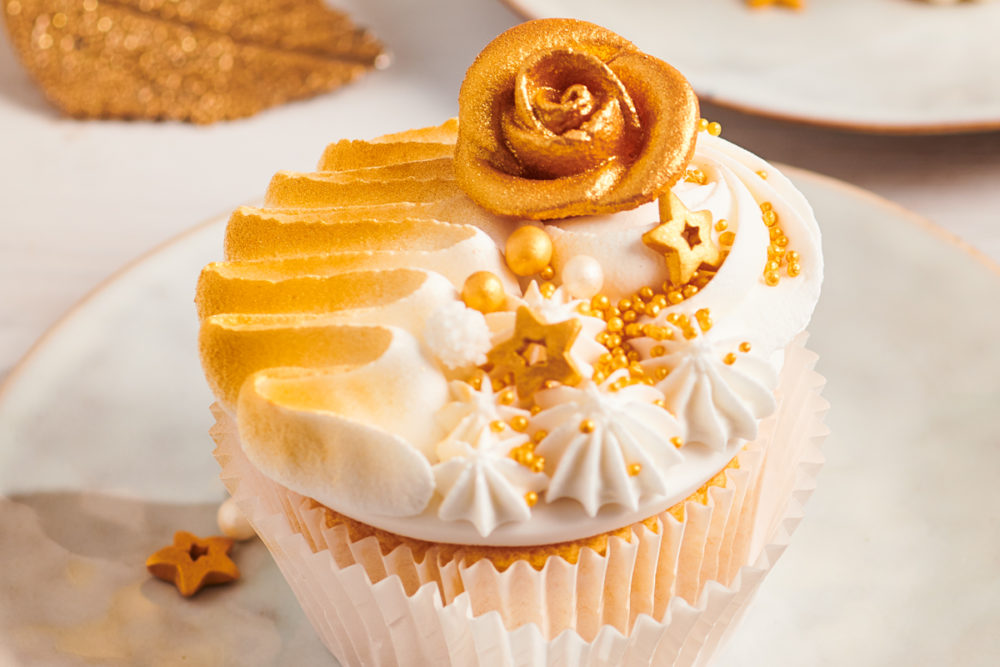 Touch of gold cupcakes
The new year is just around the corner and how can we celebrate that better than with lots of gold? These cupcakes with a touch of gold are perfect to start a sparkling New Year.
What you need to make your touch of gold cupcakes:
Ingredients
500 g FunCakes Mix for Cupcakes
150 g FunCakes Mix for Enchanted Cream®
FunCakes Marzipan Decorations Roses Gold Set/6
FunCakes Nonpareils -Gold-
FunCakes Sprinkle Medley -Gold-
FunCakes FunColours Metallic Spray -Bright Gold-
250 g unsalted butter
5 eggs (approx. 250 g)
200 ml milk
Necessities
FunCakes Baking Cups -White-
FunCakes Disposable Decorating Bags
Wilton Decorating Tip #1M Open Star Carded
Wilton Decorating Tip #022 Open Star Carded
Wilton Decorating Tip #4B Open Star Carded
Wilton Decorating Tip #104 Petal Carded
Wilton Chrome-Plated Cooling Grid
Wilton Recipe Right® Muffin Pan
Preheat the oven to 180°C (convection oven 160°C).
Prepare 500 grams of FunCakes Mix for Cupcakes as indicated on the package. Place the baking cups in the muffin pan and divide the batter into the baking cups to half fill the cups. Bake the cakes for 18-20 minutes until golden yellow and take them out of the muffin pan. Let them cool down completely on the kitchen counter.
Make with tip #1M a rosette by smoothly rotating the tip from the center of the cupcake. Make sure you don't put too much pressure on the decorating bag. To make swirls with tip #22, you need to put a little pressure on the bag before piping the swirls. With tip #4B you need to make a short move from the top to the bottom in the size of a button to make the desired swirl. With tip #104 you slowly squeeze in the decorating bag while making a zigzag move. Make sure the thick side of the tip is at the bottom. Decorate the different swirls on the cupcakes with the golden decorations.
Tip! For a touch of gold you can spray with the metallic spray a golden layer on the Enchanted Cream®!
Just a little while before you can enjoy your cupcakes. Don't forget to share your creation:
#funcakesbyme