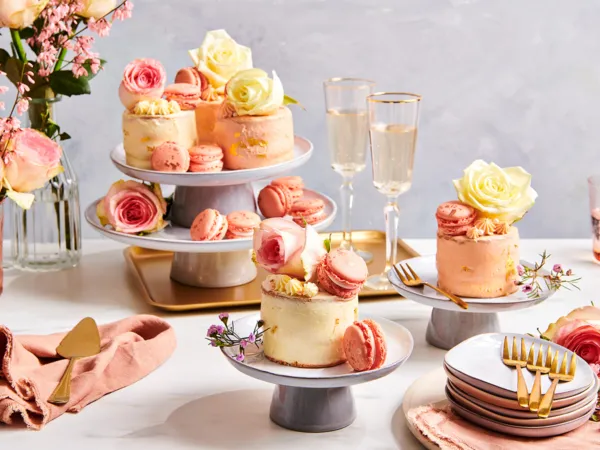 One person wedding cakes
Are you looking for a (one person) wedding cake? Then this is you lucky day! The wedding season is approaching and that is why we have made these gorgeous one person biscuit cakes with roses, gold leaf and macarons. Delicious to hand out to your guests and of course to enjoy yourself! And it's also 100% Coronaproof!
What you need to make your one person wedding cakes:
Ingredients
400 g FunCakes Mix for Sponge Cake Deluxe
200 g FunCakes Mix for Buttercream
FunColours Gel Peach
FunCakes Flavour Paste Hugo
Sugerflair Edible Gold Leaf 24 Carat Transfer
250 g unsalted butter
240 ml water
6 eggs (approx. 300g)
Some homemade macarons in the color peach
Fresh roses
Necessities
FunCakes Bake Release Spray
FunCakes decorating bags
Wilton Tip #032 Open Star
Wilton Decorator preferred Deep Baking Pan Round Ø 25x7,5cm
Wilton cooling grid
Wilton Cake leveler 25cm
Wilton Decorator Preferred Spatula Angled 22,5 cm
Wilton Basic Turn Table
Patisse Cake Edge Side Scraper 20cm
Patisse Cookie Cutter Round 8cm
Preheat the oven to 180°C (convection oven 160°C).
Prepare 400 g FunCakes Mix for Sponge Cake Deluxe according to the instructions on the package. Grease the baking pan with baking spray and bake the sponge cake for about 40-45 minutes and then put it on a cooling grid to let it cool down.
Divide the buttercream into 2 portions and color 1 portion with the FunColours Gel Peach. Cut the sponge cake twice with the cake leveler and cut out rounds. 1 cake consists of 3 rounds of biscuit. 
Stack the rounds of sponge cake on top of each other with the buttercream. Use the same color as the outside for each cake. Cover the cakes all around with buttercream, using the turntable and the side scraper. Let the cakes stiffen in the fridge.
Put the leftover buttercream in separate decorating bags with tip #032. Decorate the cakes with gold leaf, macarons and roses if you like. Pipe small tufts here and there with the colored buttercream on the cakes.
Just a little while before you can enjoy your cakes. Don't forget to share your creation:
#funcakesbyme