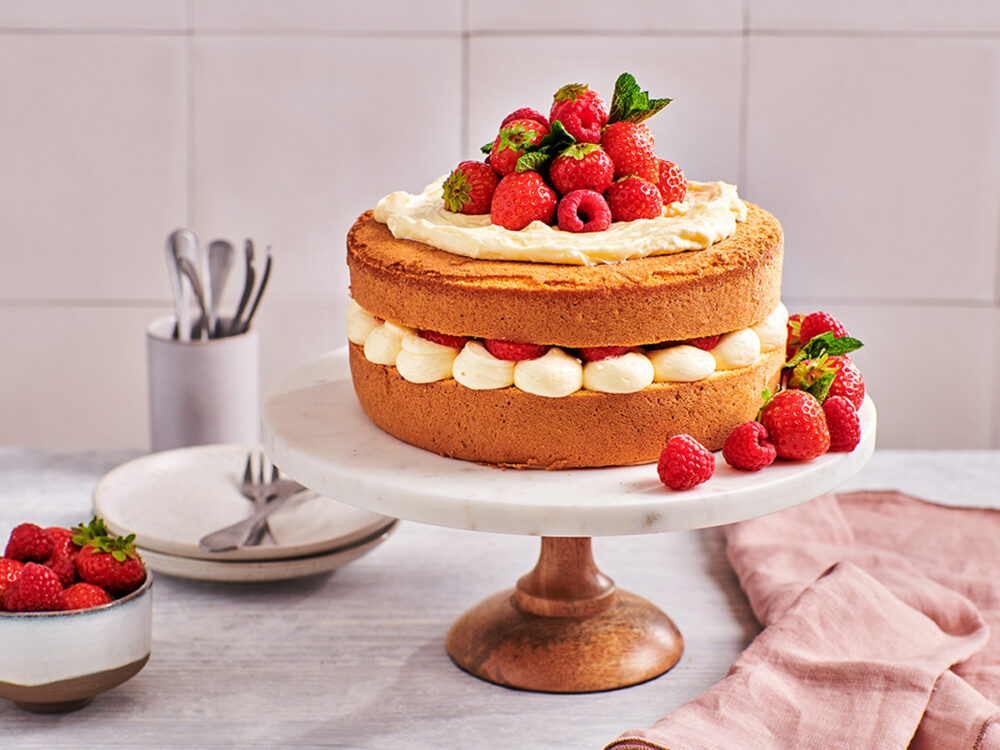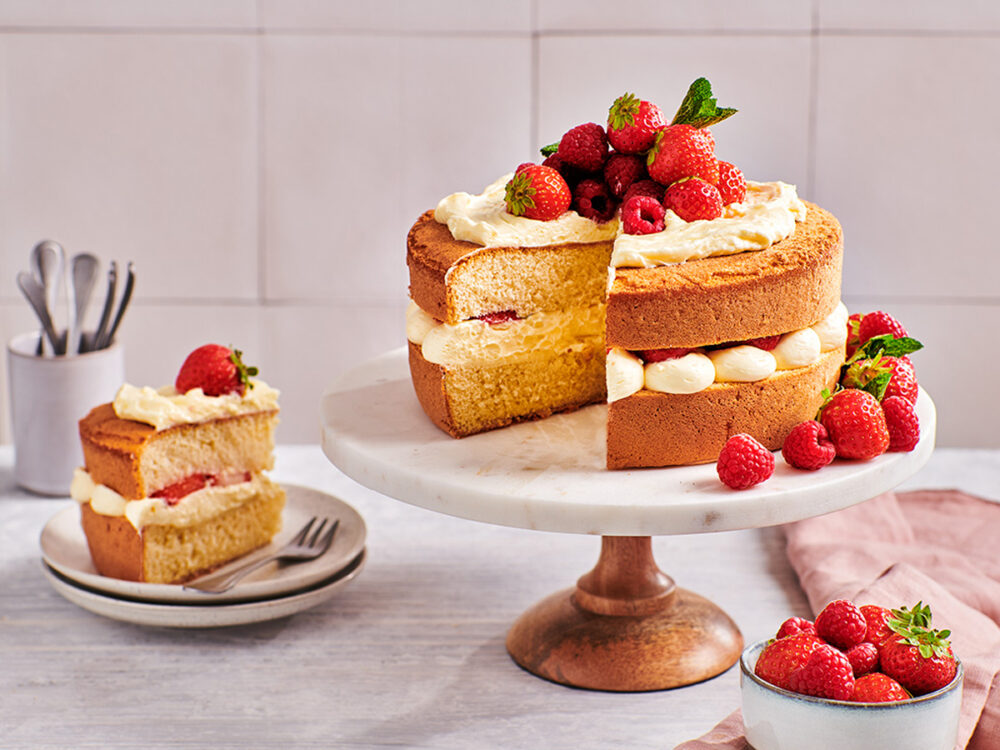 Victoria Sponge Cake with strawberries
Making your own Victoria Sponge Cake can be quite a tricky job, but with this mix from FunCakes it becomes very easy! The result is a delicious creamy sponge cake which you can finish with a tasty filling and fruit, but which is also delicious as a bundt cake. In terms of taste and texture, Victoria Sponge Cake is somewhere in between a regulare sponge and a cake. The butter makes this pastry creamier than a regular sponge, but less fat and heavy than a loaf cake. Raisins or dried fruits can also be added to the batter, so we often see this cake during the holidays.
What you need to make your victoria sponge cake with strawberries:
Ingredients
250 g FunCakes Mix for Victoria Sponge Cake
50 g FunCakes Mix for Crème Suisse
550 ml water
125 g unsalted butter
4,5 eggs (approx. 225 g)
Strawberries
Raspberries
Necessities
FunCakes Bake Release Spray
FunCakes Decorating Bags
Wilton Tip #2A Round
Wilton Cake Leveler 25cm
Wilton Cooling Grid
Wilton Decorator Preferred® Deep Round Baking Pan Ø 20x7,5cm
Preheat the oven to 190 °C (convection oven 170 °C).
Prepare 250 g FunCakes Mix for Victoria Sponge Cake according to the instructions on the package. Add the melted butter in three batches to the batter in the mixer, making sure the butter is fully incorporated before adding the next batch. Mix the batter for 2 minutes on medium speed. Bake the cake in the oven for about 35 minutes. Let the cake cool down by using a cooling grid.
Cut the sponge cake in half with the cake leveler and fill with generous caps of Crème Suisse. Place strawberry slices on top and place the top of the sponge cake on top. Spread a little Swiss cream on top of the cake and cover generously with strawberries and raspberries.
Just a little while before you can enjoy your cakes. Don't forget to share your creation:
#funcakesbyme