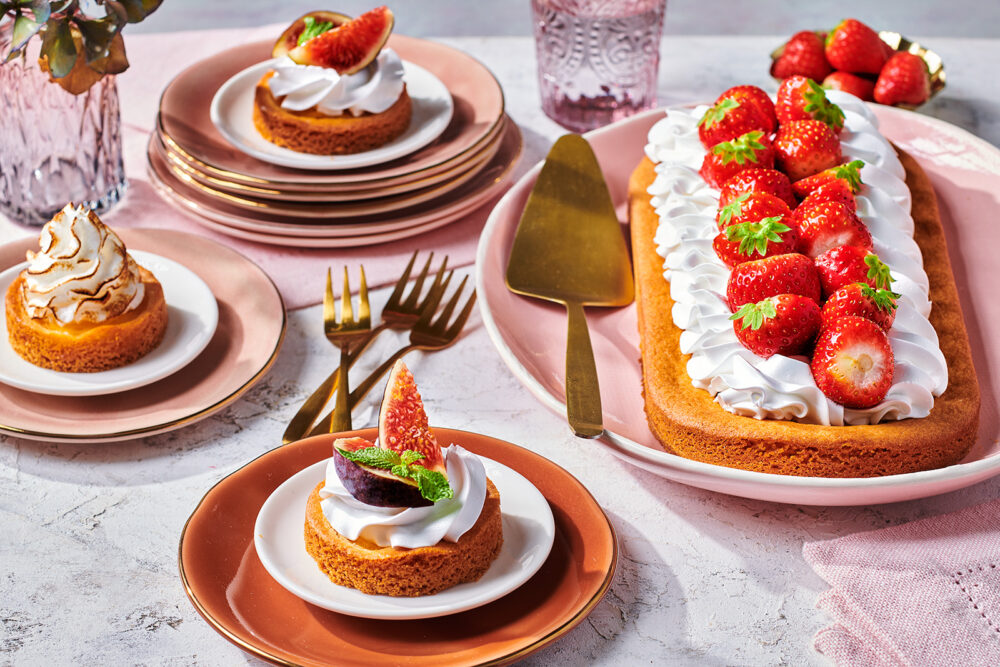 Sweet cookie & crust with strawberries
A real classic treat! A cookie & crust bottom with Enchanted Cream and pieces of fruit. A deliciously fresh, creamy and crunchy cake. Sounds irresistibly delicious right?
What you need to make your sweet cookie & crust with strawberries:
Ingredients
500 g FunCakes Mix for Cookie & Crust
150 g FunCakes Mix for Enchanted Cream®
100 g FunCakes Mix for Crème Patisserie
250 ml water
200 ml milk
155 g unsalted butter
1 egg (approx. 50 g)
Strawberries or figs
Necessities
FunCakes Decorating Bags
Wilton Tip #1M Open Star
Wilton Wide Glide Rolling Pin
Wilton Parchment paper
Patisse Baking Frame Adjustable
Preheat the oven to 180°C (convection oven 160°C).
Roll out the dough to a thickness of approx. 8 mm and press the baking pan into the dough. Place the piece of dough with the baking pan around it on a baking tray lined with parchment paper. Spread the Crème Patisserie on the dough, leaving 1 cm free from the edges. Bake for about 25 minutes and let it cool on the counter.
Prepare 150 g FunCakes Mix for Enchanted Cream® according to the instructions on the package and place in a decorating bag with #1M. Swirl a nice layer of Enchanted Cream® on the cookie & crust in a zigzag motion and decorate with fresh strawberries or fig slices.
Just a little while before you can enjoy your pastries. Don't forget to share your creation:
#funcakesbyme