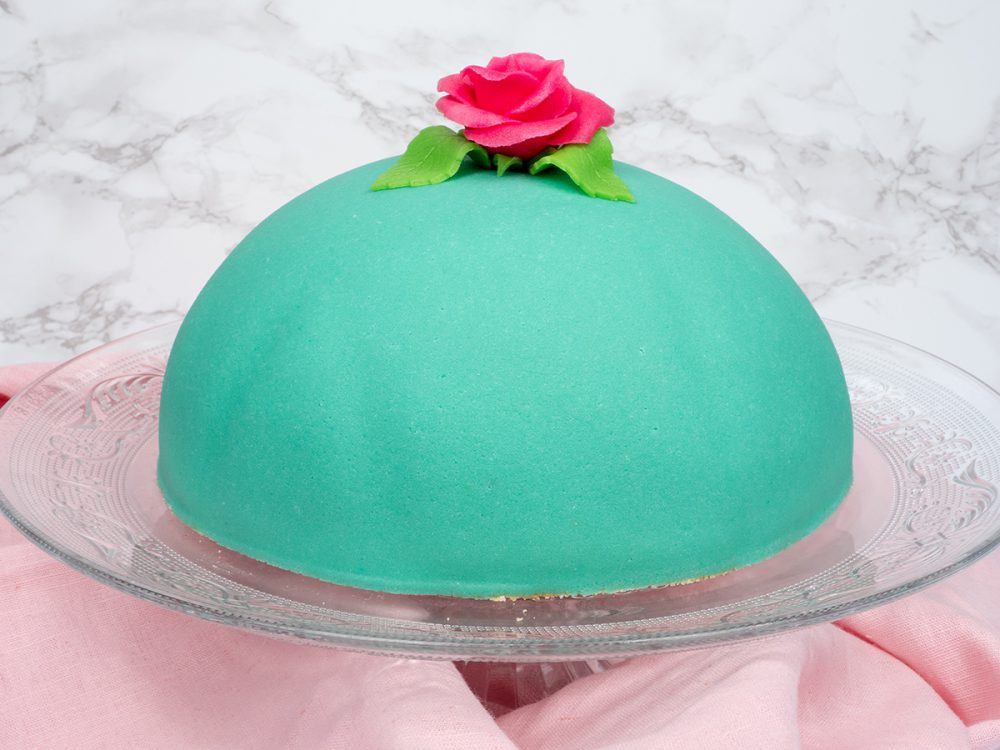 Swedish Prinsesstårta
Pincess torta is a traditional Swedisch dish that first appreated in 1948 in a cookbook published by Jenny Åkerström. It's a cake with different layers, covered with marzipan and filled with whipped cream and jam.
What you need to make your swedish prinsesstårta:
Ingredients
400 g FunCakes Mix for Sponge Cake
4 tbsp FunCakes Icing Sugar
FunCakes Edible Funcolours Gels - Turquoise
500 g FunCakes Marzipan Naturel 1:3
Small piece of FunCakes Marzipan - Grass Green
Small pieve of FunCakes Marzipan - Classic Pink
40 ml water
6 eggs (approx. 300 g)
400 ml whipped cream
2 bags whipped cream stabilizier
Jar raspberry jam
Necessities
FunCakes Bake Release Spray
FunCakes Magic Roll Out Powder
Wilton Decorator Preferred Spatula Angled
Wilton -Wide Glide- Rolling Pin 50 cm
Wilton Chrome-Plated Cooling Grid
Wilton Cake Leveler
Wilton Fondant Smoother
PME Ball Pan (Hemisphere) Ø21cm
PME Rose leaf plunger cutter
Plactic insert cover
Preheat the oven to 180°C (convection oven 160°C).
Prepare 400 grams of FunCakes Mix for Sponge Cake as indicated on the package. Grease the baking pan with baking spray and fill with batter. Bake the cake for 40 – 45 minutes and let it cool down on a cooling grid directly after baking.
Knead a small piece of pink marzipan and roll 10 even balls; the bigger the balls, the bigger the rose. Roll a drip shape from one of the balls, this is the basis. Place the other 9 balls in between the insert cover and change it into round slices by pushing them with your thumb. Attach the leaves around the drip shape, starting with just one, then three leaves around the first lead and finish with 5 leaves around the three leaves. Knead a small pieve of green marzipan soft and roll it out on your work surface. Cut out a few rose leaves using the plunger cutter.
Beat 400 ml whipped cream stiff with 4 tablesppons icing sugar and two bags of whipped cream stabilizer. Cut the cake twice using a cake leveler. Apply a layer of whipped cream and jam between the layers. Stack the cakes on top of each other and cover the cake completely with whipped cream.
Colour 600 grams of natural marzipan with the turquoise gel. Roll it out on a with magic roll-out powder covered work surface to a thickness of approx. 3 mm and cover the cake with it. Use a fondant smoother to smoothen the marzipan and cut the remaining marzipan.
Decorate the cake by placing the rose on top of the cake.
Just a little while before you can enjoy your cakes. Don't forget to share your creation:
#funcakesbyme