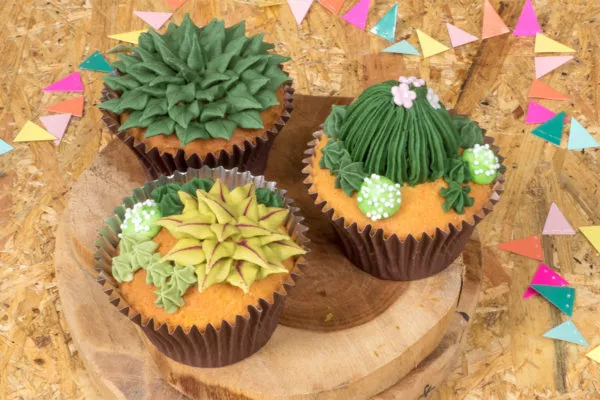 Succulent cupcakes
Who doesn't love plants? These succulent cupcakes are almost too good to eat.
What you need to make your succulent cupcakes:
Ingredients
500 g FunCakes Mix for Cupcakes
200 g FunCakes Mix for Buttercream
FunCakes Edible Colouring Gel – Holly Green
FunCakes Edible Colouring Gel – Leaf Green
FunCakes Edible Colouring Gel – Claret
FunCakes Edible Colouring Gel – Lime Green
FunCakes Edible Sparkle Dust - Metallic Gold
FunCakes Fondant – Sweet Pink
500 g unsalted butter
200 ml water
5 eggs (approx 250 g)
Necessities
FunCakes Magic Roll-Out Powder
FunCakes Decorating Bags
FunCakes Baking Cups – Brown
4 Wilton coupler rings
Wilton decorating tip #12
Wilton decorating tip #18
Wilton decorating tip #21
Wilton decorating tip #104
Wilton decorating tip #352
Wilton Recipe Right® 12 cupcakes Muffin Pan
Wilton cooling grid
Wilton decorater brush
Wilton Perfect Height rolling pin
Small blossom plunger, for example from PME
Rejuvenator
Several bowls
Preheat the oven to 180°C (convection oven 160°C).
Prepare 500 g FunCakes Mix for Cupcakes as indicated on the package. Place the baking cups in the muffin pan and fill them for two third with batter. Bake the cakes for 18-20 minutes and let them cool down on a cooling grid afterwards.
Prepare 200 g FunCakes Mix for Buttercream as indicated on the package. Divide the buttercream into several bowls and colour it with the different colours of green gels. Prepare decorating bags with adaptors and fill them with the buttercreams. In one decorating bag, paint a line on the inside of the bag with the Claret colouring before you fill it with light green buttercream.
Tip! By using adapters it is easy and quick to switch between the different colours of buttercream. Make 3 cupcakes of each type of succulent.
To make succulents from this, do as follows: pipe with #12 a small pyramid on the cupcake. Change the decorating tip with #104. Make sure the red line is equal to the small side of the decorating tip. Now pipe some sort of 'scarf' around the tip of the pyramid. Then make three leafs around it, continue with 5 leaves around that layer and then another layer of 7 leaves.
Use decorating tip #352 to make a different kind of succulent: pipe along the edges of the cupcake small leaves in the colour green of your choice. When you've finished your first circle, repeat this a bit more to the inside. Continue until the whole cupcake is covered with leaves. Then make edible paint by mixing a bit of rejuvenator with sparkle dust. Carefully paint the tips of the succulents gold with the brush.
For the cactus, use decorating tip #12 and #18 and work as follows: pipe with #12 a reasonable amount of green buttercream on the cupcakes. Change decorating tips and continue with #18 in the same colour. Make stripes from the bottom to the top with the buttercream. Roll out some pink fondant, cut out small blossoms out of it and attach these to the cactus.
Finally, cover the rest of the cupcakes by varying with the different decorating tips and colour of buttercream.
Just a little while before you can enjoy your cupcakes. Don't forget to share your creation:
#funcakesbyme