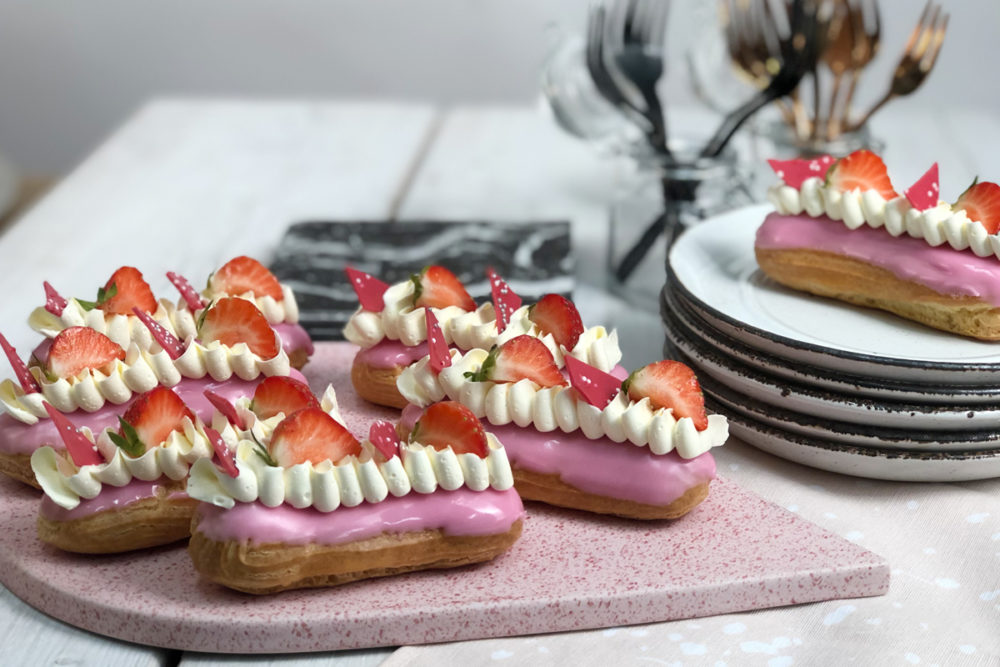 Strawberry eclairs
A popular French pastry filled with strawberry bavarois! A real treat for yourself …
Ingredients
90 g FunCakes Pastry Flour Deluxe
100 g FunCakes Special Edition Mix For Swiss Meringue Buttercream
50 g FunCakes Mix for Bavarois Strawberry
FunCakes Dip 'n Drip White
FunColours Gel Pink
100 g FunCakes Deco Melts Red
FunCakes Nonpareils Lots of Love
FunCakes Nonpareils Silver
295 g unsalted butter
250 ml whipped cream
205 ml water
75 ml milk
3 eggs (aprox. 150 g)
4 g granulated sugar
Salt
Strawberries
Necessities
FunCakes decorating bags
Wilton Decorator Preferred Spatula Angled 22,5 cm
Wilton Tip #4B Open Star
Wilton Tip #104 Petal
Wilton Tip #021 Open Star
Wilton parchment paper
Heat 75 g of milk, 75 g of water, 75 g of butter, 4 g of sugar and a pinch of salt in a pan and bring to a boil. Remove the pan from the heat and add the 90 g FunCakes pastry flour and stir into a ball.
Return the pan to the heat and let the flour cook while stirring, this takes about 5 minutes. Remove the dough ball from the pan and put it in a mixing bowl with butterfly . Let this breathe out while rotating on the middle position. Add the eggs 1 by 1 while mixing. Do not add the next egg until the previous one has been completely absorbed. Mix this in about 10 minutes on the middle setting until a nice smooth dough. Cover the bowl with spring fling and put it in the fridge.
In the microwave, heat the 100g Deco Melts as indicated on the package and spread thinly on a baking tray lined with parchment paper. Sprinkle some nonpareils over this and let it set in the fridge for 5-10 minutes.
Beat the whipped cream. Prepare the 50 g FunCakes Mix for Bavarois Strawberry with 60 ml of water and fold it directly into the lumpy whipped cream. Cover the bowl and let it set in the refrigerator.
Preheat the oven to 210 ° C (convection oven 190 ° C). * for best results, bake the eclairs on convection*
Put the dough out of the refrigerator in a decorating bag with tip # 4B and pipe onto a baking tray lined with parchment paper stripes from about 10 cm. Spray vigorously so that you get nice thick stripes, so that your eclairs get "body". Bake the eclairs in 40-45 minutes. (they should double in volume while baking) and let them cool on the counter. Prick 3 holes at the bottom of the eclair to fill them.
The stiffened bavarois goes into a decorating bag with tip # 021 and with this you fill the eclairs.
Heat a dip in a dish in the microwave and color the light pink (10 to 20 sec). Dip the top of the eclairs in the pink drip and let it set in the fridge for 10 minutes. Spray a zigzag stripe of Swiss Meringue Buttercream on top of the eclairs and decorate this with some pieces of strawberry and a piece of the red deco melts.
Just a little while before you can enjoy your pastries. Don't forget to share your creation:
#funcakesbyme