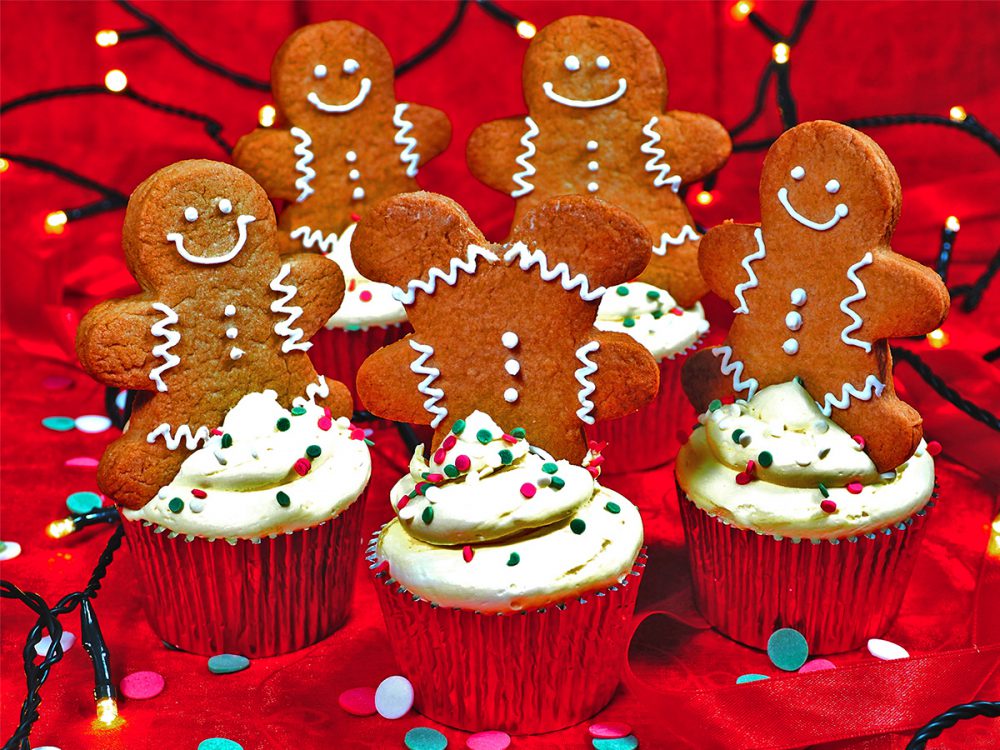 Speculoos-gingerbread cupcakes
Are you looking for something other than a gingerbread house? How about these cupcakes with gingerbread topping! This wonderful combination is perfect for during winter.
What you need to make your speculoos-gingerbread cupcakes:
Ingredients
500 g FunCakes Mix for Cupcakes
125 g FunCakes Mix for Buttercream
260 g FunCakes Mix for Gingerbread
250 g FunCakes Mix for Royal Icing
FunCakes Speculoos Spices
FunCakes Flavour Paste -Mascarpone-
FunCakes Mini Confetti Christmas
530 g unsalted butter
5 ½ eggs (approx. 275 g)
185 ml water
125 g mascarpone
Necessities
FunCakes Disposable Decorating Bags
Wilton Recipe Right® Muffin Pan
Wilton Decorating Tip #2D Dropflower Carded
Wilton Decorating Tip #002 Round Carded
Wilton Metal Cookie Cutter Gingerbread Boy -7.5cm-
Wilton Chrome Plated Cooling Grid
House of Marie Baking Cups Foil Red
Prepare 125 grams of FunCakes Mix for Buttercream as described on the package and add 125 grams of mascarpone and the flavour paste. Beat it to a smooth buttercream (approx. 10 minutes).
Preheat the oven to 180°C (convection oven 160°C).
Prepare 500 grams of FunCakes Mix for Cupcakes as indicated on the package and add the speculoos spices. Place the baking cups in the muffin pan and divide the batter into the baking cups to half fill the cups. Bake the cakes for 18-20 minutes until golden yellow and take them out of the muffin pan. Let them cool down completely on the kitchen counter.
Get the dough out of the fridge and roll it out. Cut out the cookies and bake them in 12 minutes. Let them cool down after baking.
Prepare 250 grams of FunCakes Mix for Royal Icing as described on the package. Place tip #2 in the decorating bag and fill the bag with the icing. Decorate the cookies with the icing and let them harden.
Place tip #2D in a decorating bag and fill this with the mascarpone cream.
Pipe swirls on the cupcake and place the cookies in the swirls. Decorate them with the Christmas confetti.
Just a little while before you can enjoy your cupcakes. Don't forget to share your creation:
#funcakesbyme