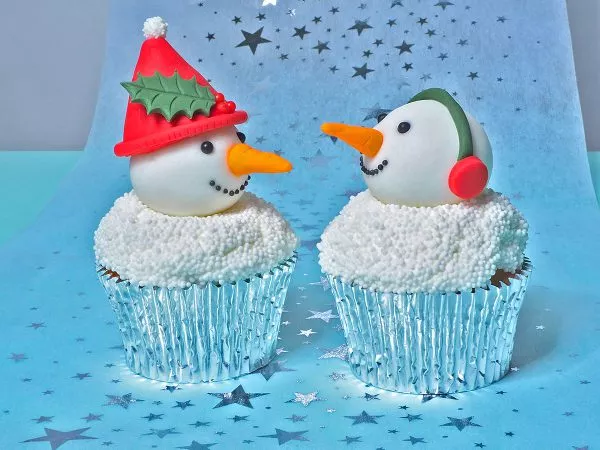 Snowman cupcakes
Winter becomes your favourite season thanks to cupcakes like these.
What you need to make your snowman cupcakes:
Ingredients
500 g FunCakes Mix for Cupcakes
150 g FunCakes Mix for Enchanted Cream®
300 g FunCakes Fondant -Bright White-
250 g FunCakes Fondant -Fire Red-
100 g FunCakes Fondant -Forest Green-
20 g FunCakes Fondant -Tiger Orange-
160 g FunCakes Nonpareils -White-
FunCakes Mimosa -White-
FunCakes Sugarpearls 4mm -Shiny Red-
FunCakes Sugarpearls 4mm -Shiny Black-
FunCakes Nonpareils -Black-
FunCakes Edible Glue
FunCakes CMC - Tylo Powder
250 g unsalted butter
5 eggs (approx. 250 grams)
100 ml skimmed milk
100 ml water
Necessities
FunCakes Disposable Decorating Bags
FunCakes Magic Roll-Out Powder
Wilton Recipe Right® Muffin Pan
Wilton -Perfect Height- Rolling Pin 22,5cm
Wilton Decorating Tip Round #2A
Wilton Chrome-Plated Cooling Grid
PME Holly Leaf Plunger Cutter Set/3
PME Miniature Round Plunger Cutter set/3
PME Modelling tools, Bulbulous cone
PME Modelling tools, Scriber Needle
House of Marie Baking Cups Folie Zilver pk/24
Brush
Tooth picks
Preheat the oven to 180°C (convection oven 160°C).
Prepare 500 grams of FunCakes Mix for Cupcakes as indicated on the package. Place the baking cups in the muffin pan and divide the batter into the baking cups to half fill the cups. Bake the cakes for 18-20 minutes until golden yellow and take them out of the muffin pan. Let them cool down completely on the kitchen counter.
Knead 300 grams of white fondant well and add a pinch of tylo powder. Roll 20 – 24 equal balls for the snowmen heads. Make eight hats with the red fondant. Make a ball and roll it in your hands into a in a cone shape and hollow it out with the bulbulous cone on the inside. Glue a small roll of red fondant against it and use a knife to give lines in the edge and on the hat. Glue a white mimosa on top. Roll out the green fondant thinly and cut out small holly leaves and glue them on the hats together with some red pearls. With the back of a brush you make 3 holes in the head and fill up two holes with black pearls. Use a little bit of glue if necessary. Make a carrot of a piece of orange fondant and glue it in the third hole. Dip the needle tool into the glue and make holes for the mouth and fill it up with black nonpareils. For the ear warmers, you use the largest size of the round plunger and glue it on the head against a thin roll of green fondant.
Pipe royal rosettes on the cupcakes. Pour the white nonpareils into a bowl and dip the whole swirl into it so that it is completely covered with nonpareils. Use a toothpick to stick the heads on the cupcakes.
Just a little while before you can enjoy your cupcakes. Don't forget to share your creation:
#funcakesbyme