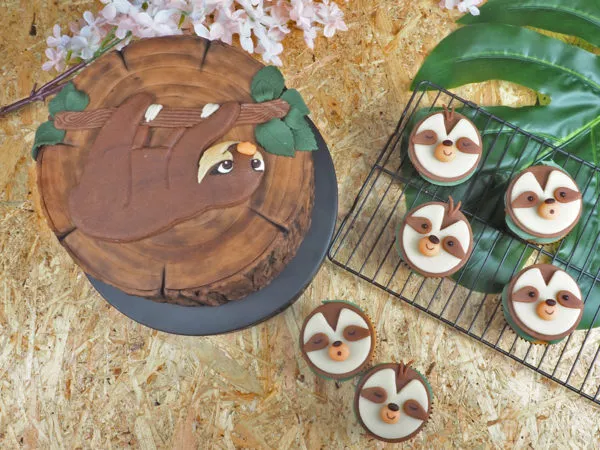 Sloth cake
Sloths are noted for slowness of movement and for spending most of their lives hanging upside down in trees but today we made a sloth cake and this recipe needs to be shared because it's out of this world! It's so delicious!
1 hour and 30 min. preparing
2 hour and 30 min. waiting
What you need to make your sloth cake:
Ingredients
250 g FunCakes Mix for Sponge Cake Deluxe
200 g FunCakes Mix for Buttercream
750 g FunCakes Rolfondant - Bright White
300 g FunCakes Marzipan – Natural
100 g FunCakes Rolfondant - Forest Green
Small piece of FunCakes Fondant - Raven Black
FunCakes Flavour Paste - Hazelnut
FunCakes FunColours Gel - Brown
FunCakes FunColours Gel - Peach
FunCakes FunColours Dust - Black
FunCakes FunColours Dust - Milk Chocolate
FunCakes FunColours Dust - Dark Chocolate
FunCakes FunColours Brush Food pen – Black
FunCakes Magic Roll-Out Powder
250 g unsalted butter
225 ml water
4 eggs (approx. 200 g)
Cornstarch
Necessities
FunCakes Magic Roll-Out Powder
FunCakes Bake Release Spray
FunCakes Edible Glue
Wilton Decorator Preferred Spatula Angled
Wilton Decorating Brush
Wilton -Wide Glide- Rolling Pin
Wilton Cake Leveler
Wilton Cooling Grid
PME Extra Deep Round Baking Pan Ø20 cm
PME Cutting Wheels
PME Modelling Tools Flower/Leaf
Karen Davies Silicone Mould - Rustic Woodland Bark
PME Rose Leaf Plunger Cutter
FMM Impression Mat Tree Grain
FMM Dusting Pouch
Crisco
2 copies of a sloth
Plastic insert case
Paper towel
Color almost all of the 300 grams of marzipan brown. Put a sloth image in a plastic cover and cut the other one out in puzzle pieces. Lubricate all paper parts at the back with crisco to prevent them from sticking. Roll out the marzipan very thinly on a with magic roll-out powder covered work surface, place the crisco lubricated parts on top and cut them out with the cutting wheel. Put this on top of the sloth in the plastic cover. For the nose, colour a small piece of marzipan with the peach coloured gel. Use natural marzipan for the beard and the nails and make the eyes out of a little black ball from fondant. Accentuate the eyes a bit more with the black food pen. For the tree trunk roll out some brown marzipan thinly and create the right texture by pressing in the tree grain mat.
Preheat the oven to 180°C (convection oven 160°C).
Prepare 250 grams of FunCakes Mix for Sponge Cake as indicated on the package. Lubricate the baking pan. Bake the sponge cake for 30 – 35 minutes and let it cool down on a cooling grid.
Prepare 200 grams of FunCakes Mix for Buttercream as indicated on the package and add hazelnut flavor to taste. Cut the sponge cake twice using the cake leveler and cover with the hazelnut buttercream. Leave to set in the refrigerator.
Knead 750 grams of fondant and colour the fondant brown. Use a part of the fondant to cover the top of the and clean the edges neatly with a sharp knife. Powder the Karen Davies mold with cornstarch, tap out the excess and push fondant into it. Lay the fondant with tree grain structure on a piece of kitchen towel and dust it as you like with the two brown dusts and the black dust. Make sure you have enough to go around the entire cake and put it against it. The buttercream will make sure it sticks. Make some notches on top with the flower/leaf-tool and create rings with the cutting wheel. Dust these notches and rings again with the three colours of dusts.
Roll out 100 grams of green fondant thinly and cut out leaves. Carefully place the sloth on the cake using glue and add the leaves with glue as well.
Just a little while before you can enjoy your cakes. Don't forget to share your creation:
#funcakesbyme