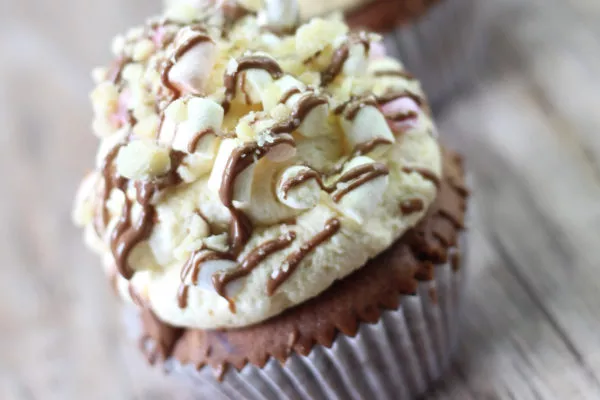 Rocky road cupcakes
We know for sure, these cupcakes are divine! A delicious cupcake with chocolate, marshmallows and much more. So creamy that you have never been eaten, so beware of dangerously tasty!
What you need to make your rocky road cupcakes:
Ingredients
250 g FunCakes Mix for Cupcakes
100 g FunCakes Mix for Bavarois Natural
150 g FunCakes Chocolate Melts milk
FunCakes Flavor Paste Crème Brûlée
FunCakes mini marshmallows
500 ml of whipped cream
125 g unsalted butter
120 ml of water
3 eggs (approx. 150 g)
3 tbsp cocoa
Finely chopped hazelnuts
Necessities
FunCakes decorating bags
Wilton Decorating Tip 1M
Wilton Recipe Right® 12 cup Muffin Pan
Preheat the oven to 180 ° C (convection oven 160 ° C).
Prepare 250 g FunCakes Mix for Cupcakes as indicated on the package and add the cocoa powder. Divide paper baking cups in a muffin tin and scoop the batter into the cups with an ice cream spoon. Bake the cupcakes in the preheated oven for about 18 minutes.
Beat the whipped cream well. Mix the mix for bavarois with the water and the flavoring agent and carefully fold this mixture into the whipped cream immediately. Place the tip in the decorating bag and fill it with the bavarois. Pipe swirls of bavarois on the cupcakes.
Put the melts in a plastic or glass bowl. Place this bowl in the microwave and melt the melts at maximum power (± 800 Watt). Every 15 to 20 seconds, remove the chocolate from the microwave and stir it well so that the temperature spreads evenly. Keep repeating this until the chocolate is almost completely melted; small pieces of chocolate may still be visible. Stop heating and stir the chocolate well until all pieces of chocolate have dissolved and an even chocolate mass is obtained.
Fill a new decorating bag with the chocolate and pipe this over the swirls on the cupcakes. Decorate with the mini marshmallows and finely chopped hazelnuts.
Just a little while before you can enjoy your cupcakes. Don't forget to share your creation:
#funcakesbyme