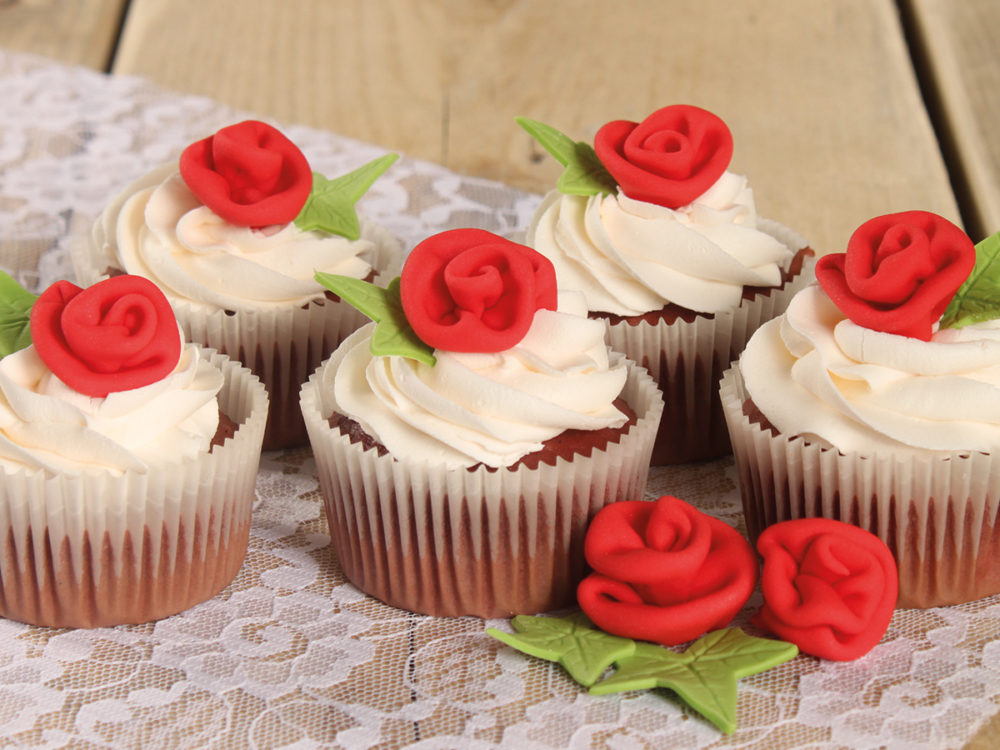 Red velvet cupcakes with roses
These easy red velvet cupcakes with roses are always a great idea! Bake them for yourself, a loved one or your neighbor and enjoy this deliciousness.
Ingredients
500 g FunCakes Mix for Red Velvet Cake
200 g FunCakes Mix for Buttercream
50 g FunCakes Fondant Green
100 g FunCakes Fondant Red
400 ml water
3 eggs (approx. 150 g)
100 ml vegetable oil
250 g unsalted butter
Necessities
FunCakes Baking Cups White
FunCakes Flavour Paste Orange
FunCakes Decorating Bags
FunCakes Edible Glue
FunCakes Magic Roll-Out Powder
Wilton -Perfect Height- Rolling Pin
Wilton Cooling Grid
Wilton Decorating Tip #2D
PME Ivy Leaf Plunger Cutter
PME Modelling Tool Cutting Wheel
Preheat the oven to 175°C (convection oven 160°C).
Prepare 500 grams of FunCakes Mix for Cupcakes as indicated on the package. Divide the baking cups into the muffin pan and fill them with the batter. Bake the cupcakes in 20 – 25 minutes and let them cool down using a cooling grid.
Prepare 200 grams of FunCakes Mix for Buttercream as indicated on the package and add orange flavourpaste to taste. Placet tip #2D in the decorating bag and fill it with the cream. Pipe rosettes on top of the cupcakes.
Knead 50 grams of green fondant and roll it out using a rolling pin. Cut out the leaves using the ivy leaf plunger cutter.
Knead 100 grams of red fondant and roll it out using a rolling pin. Use the cutting wheel to cut strips of approximately 3 by 8 cm. Put a little glue on one of the undersides and fold the slice in half lengthwise and make sure that the folding edge does not become flat. Roll the slice with the fold up. Press the undersides together so that they become narrower and the tops of the roses open slightly.
Place the leaves and roses on the rosettes.
Just a little while before you can enjoy your cupcakes. Don't forget to share your creation:
#funcakesbyme