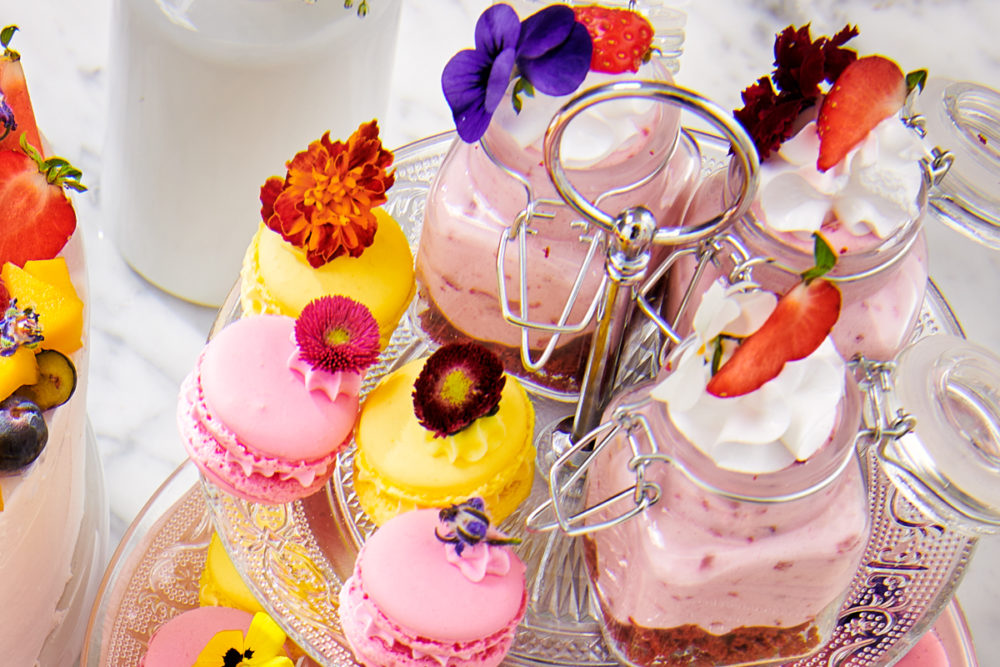 Red Velvet bavarois dessert
A good dessert never hurts. In combination with red velvet and strawberry bavarois, you can finish your evening meal wonderfully. Enjoy your meal!
What you need to make your red velvet bavarois dessert:
Ingredients
330 g FunCakes Mix for Red Velvet Cake
50 g FunCakes Mix for Bavarois Strawberry
75 g FunCakes Mix for Enchanted Cream®
290 ml water
250 ml whipped cream
65 ml plant based oil
2 eggs (aprox. 100 g)
Strawberries
Edible flowers
Necessities
FunCakes decorating bags
FunCakes Bake Release Spray
Wilton Recipe Right® baking pan Ø 20 cm
Wilton decorating tip #1M
Wilton cooling grid
Wilton cake leveler
Preheat the oven to 175 °C (convection oven 160 °C).
Prepare 330 g of FunCakes Mix for Red Velvet Cake as indicated on the package. Grease the baking pan with Bake Release Spray and divide the batter over the baking pan. Bake the cake in 30–35 minutes in the middle of the preheated oven. Let the cake cool down on a cooling grid.
Cut the cake in half twice. Use the middle slice for the desserts, the other slices can be stored in the freezer and used for later.
Beat the whipped cream, prepare the 50 g of FunCakes Mix for Bavarois as indicated on the package and fold it directly into the whipped cream.
Crumble the slice of red velvet cake and spread it over the bottom of your dessert glasses or bowls. Spoon the bavarois into a decorating bag and cut a small tip off. Fill the glasses with a layer of bavarois and let it set in the fridge.
Prepare 75 g of FunCakes Mix for Enchanted Cream® as indicated on the package. Spoon this into a decorating bag with #1M and spray small tufts onto the bavarois. Decorate with a slice of strawberry and an edible flower.
Just a little while before you can enjoy your desserts. Don't forget to share your creation:
#funcakesbyme