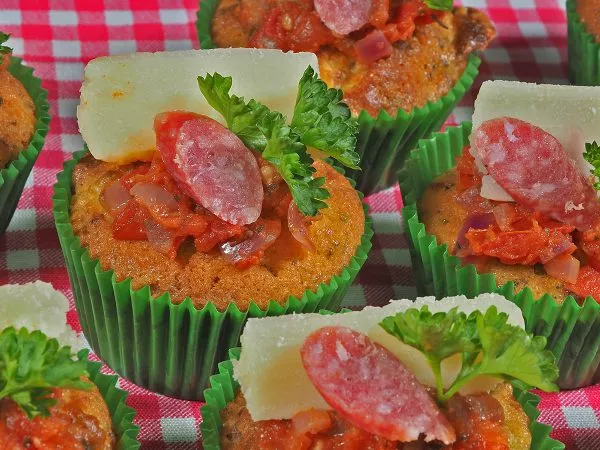 Pizza cupcakes
Do you like pizza? Then you are lucky, because these pizza cupcakes are the ideal combination between sweet and savory.
What you need to make your pizza cupcakes:
Ingredients
500 g FunCakes Mix for Cupcakes
250 g salted butter
5 eggs (approx. 250 g)
4 bifi sausages
Green garlic olives
Sundried tomatoes
Fresh parsley
Parmesan flakes
2 red onions (chopped)
3 tomatoes (peeled)
Italian herbs
2 cloves garlic (finely chopped)
Mozzarella ball (chopped)
Salt and pepper
Necessities
FunCakes Baking Cups -Grass Green-
Wilton Recipe Right® Muffin Pan
Wilton Chrome Plated Cooling Grid
Frying pan
Preheat the oven to 180°C (convection oven 160°C).
Prepare 500 grams of FunCakes Mix for Cupcakes as indicated on the package and add 3 ½ chopped bifi sausages, thin slices of olives, 1 chopped onion, 1 clove of pressed garlic, some Parmesan flakes, Italian herbs, chopped mozzarella and the parsley to the batter. Stir it well. Place the baking cups in the muffin pan and divide the batter into the baking cups to half fill the cups. Bake the cakes for 18-20 minutes until golden yellow and take them out of the muffin pan. Let them cool down completely on the kitchen counter.
Cut the peeled tomatoes in pieces. Bake 1 onion with 1 clove of garlic in a saucepan until translucent and then add the tomatoes. Season with salt, pepper and Italian herbs. Let it cook for a little while.
Place a bit of sauce on every cupcake and decorate with a piece of Parmesan cheese, a slice of sausage and some parsley.
Just a little while before you can enjoy your cupcakes. Don't forget to share your creation:
#funcakesbyme