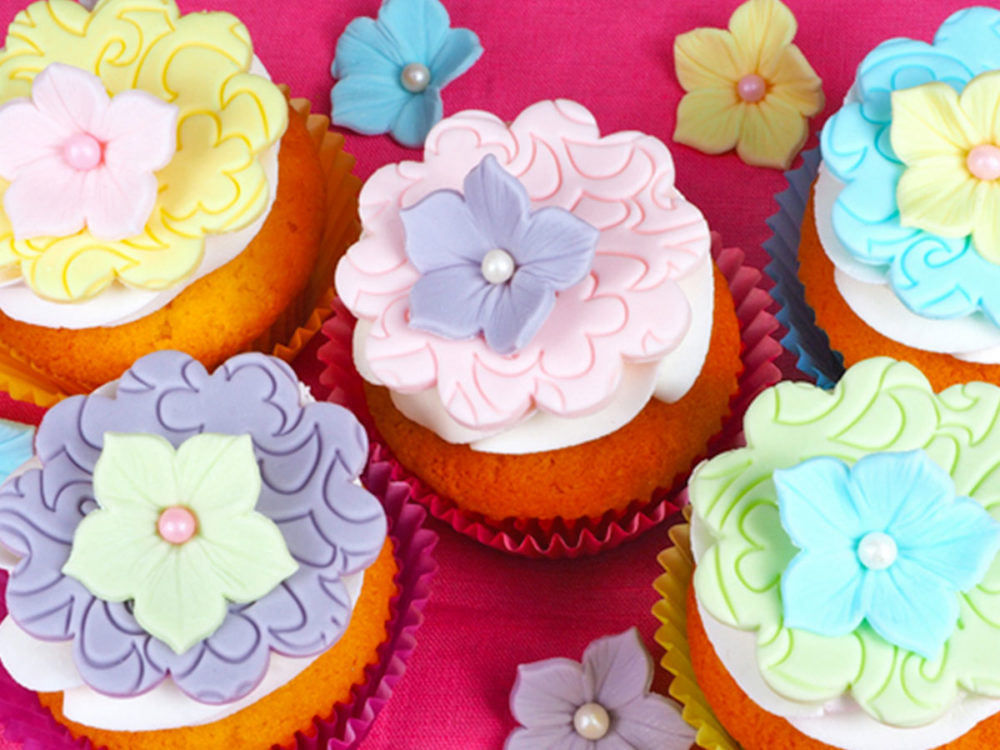 Pastel flower cupcakes
A creative way to decorate your cupcake. Bake them for yourself, for easter or for any other occasion.
What you need to make your pastel flower cupcakes:
Ingredients
500 g FunCakes Mix for Cupcakes
200 g FunCakes Mix for Buttercream
FunCakes Flavour Paste – Whipped Cream
FunCakes Fondant Pastel Colours
FunCakes Soft Pearls – Pink/White
490 g unsalted butter
5 eggs (ca 250 g)
Necessities
FunCakes Magic Roll-Out Powder
FunCakes Edible Glue
FunCakes Decorating Bags
Wilton Recipe Right Muffin Pan
Wilton Baking Cups Pastel Assorted
Wilton -Perfect Height- Rolling Pin
Wilton Decorating Tip #1M
PME Round & Wavy Edge Cutter
Silikomart Sugarflex Veiner -Mini Flower-
Make the flowers one day in advance in order for them to dry well. Knead the different colours of fondant, roll out on a with Magic Roll-Out Powder covered work surface and cut the flowers out using the flower cutter. Let them dry on a wrinkled napkin, to give them a more vivid look. Attach a pearl in the heart of the flowers.
Preheat the oven to 180°C (convection oven 160°C).
Preapare 500 grams of FunCakes Mix for Cupcakes as indicated on the package. Place the baking cups in the muffin pan and fill until two third with batter. Bake the cupcakes for 18 – 20 minutes in the middle of the preheated oven and let them cool down by using a cooling grid.
Prepare 200 grams of FunCakes Mix for Buttercream as indicated on the package. Flavour the buttercream to taste with the whipped cream flavour paste. Put decorating tip #1M in a decorating bag and fill with the buttercream. Pipe small rosettes on the cupcakes. Place in the fridge for them to stiffen.
Knead the fondant, roll out on a with Magic Roll-Out Powder covered work surface. Place the impression mat on top of the fondant and roll with the rolling pin over it to get the pattern copied into the fondant. Then use the round and wavy cutter to cut out the right shapes. Get the cakes out of the fridge, place one of the round and wavy fondant slices on top of the rosette and attach the flowers in the middle.
Just a little while before you can enjoy your cupcakes. Don't forget to share your creation:
#funcakesbyme