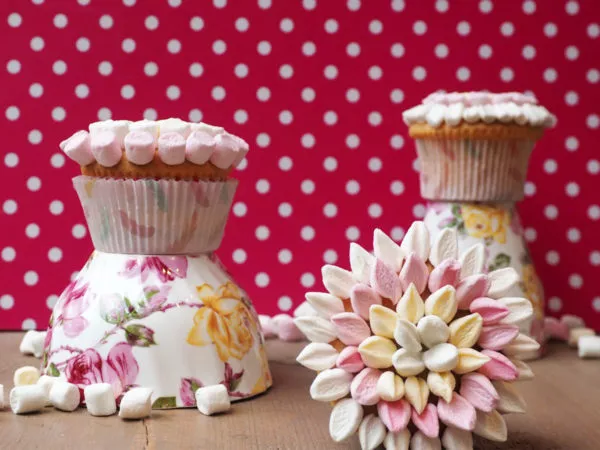 Marshmallow flower cupcakes
Don't feel like getting started with some fondant? Then opt for these marshmallow flowercupcakes and create your own flower arrangement.
What you need to make your marshmallow flower cupcakes:
Ingredients
500 g FunCakes Mix for Cupcakes
FunCakes Mini Marshmallows
FunCakes Clear Piping Gel
250 g unsalted butter
5 eggs (approx. 250 g)
Necessities
FunCakes Baking Cups -Colourful Chevron-
Wilton Recipe Right® Muffin Pan
Wilton Chome-Plated Cooling Grid
Brush
Scissors
Preheat the oven to 180°C (convection oven 160°C).
Prepare 500 grams of FunCakes Mix for Cupcakes as indicated on the package. Place the baking cups in the muffin pan and divide the batter into the baking cups to half fill the cups. Bake the cakes for 18-20 minutes until golden yellow and take them out of the muffin pan. Let them cool down completely on the kitchen counter.
Use the brush to cover the top of the cupcakes with a thin layer of piping gel.
Use a clean scissors to cut the marshmallows oblique.
Place them with the flat side in flower shape on the cupcake. Repeat this till the cupcakes are completely covered.
Just a little while before you can enjoy your cupcakes. Don't forget to share your creation:
#funcakesbyme