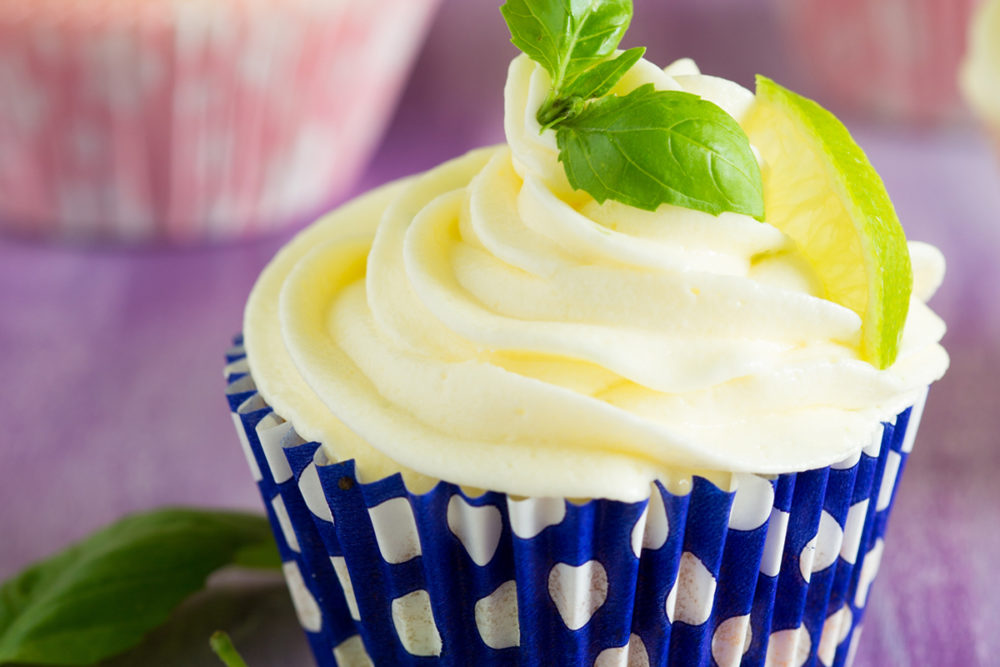 Lime-mint cupcakes with lime buttercream
Something different than a standerd cupcakes. To cupcakes you can add everything you want. Like these lime mint cupcaks with lime buttercream. A cupcake with a delicous taste en something special on top. Let the taste be a party!
Ingredients
500 g FunCakes Mix for Cupcakes
100 g FunCakes Mix for Buttercream
375 gram unsalted butter
100 ml water
100 ml whipped cream
5 eggs (approx. 250 gram)
2 tsp vanille extract
3 tsp lime zest (green shell finely grated)
2 tb sour cream
handful of mint, finely chopped
Necessities
FunCakes Baking Cups
FunCakes decorating bags
Wilton - Recipe Right- Muffin Pan
WIlton Tip #1M Open Star
Preheat the oven on 180°C (convection oven 160°C ).
Prepare 500 g FunCakes Mix for Cupcakes as indicated on the package. Add 1 teaspoon vanilla, lime rasp, mint and sour cream to the batter. Mix it all on medium speed. Line the baking cups in a muffin pan and fill them with the batter. Bake the cupcakes in approx. 18 minutes. Let the cupcakes cool down after baking on a cooling grid.
Prepare 100 g FunCakes Mix for Buttercream as indicated on the package.  Add the vanilla, lemon juice and rasp and mix it on medium speed to a light smooth cream.
Beat the whipping cream until it forms soft peaks. Carefully mix the cream with the buttercream using a spatula. Place the tip in a decorating bag and fill this with the cream. Make small swirls on the cupcakes.
Tip! You can decorate the swirls with mint and a slice of lemon. If you don't like mint you can also use basil.
Just a little while before you can enjoy your cupcakes. Don't forget to share your creation:
#funcakesbyme