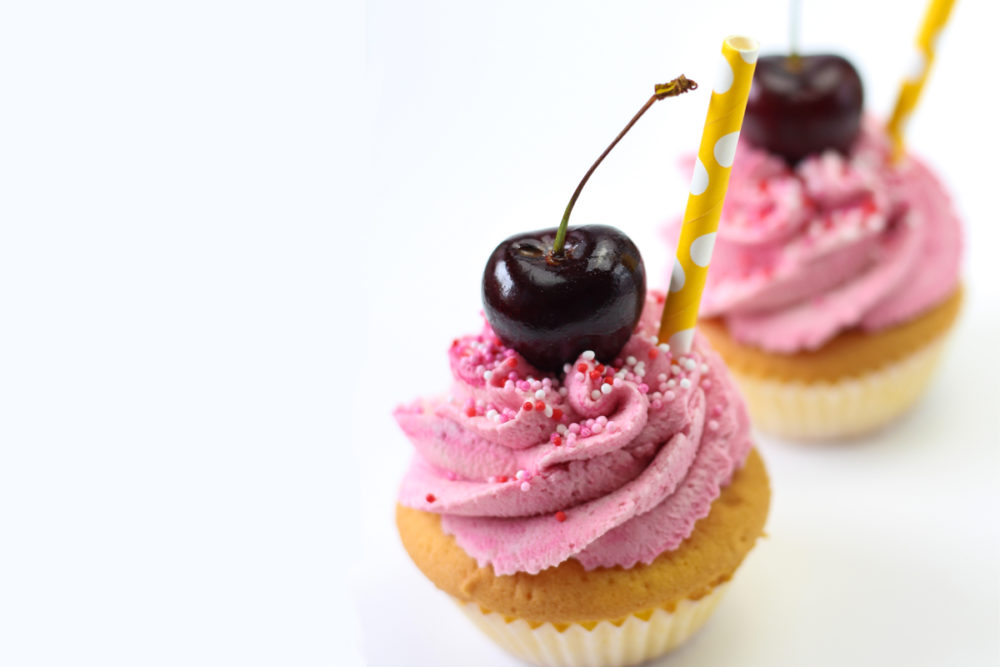 Lemon cherry cupcakes
Surprise your family and friends with these sweet lemon cherry cupcakes! Great for a picnic or high tea.
What you need to make your lemon cherry cupcakes:
Ingredients
250 g FunCakes Mix for Cupcakes
100 g FunCakes Bavarois Naturel
FunCakes Flavour Paste Lemon
FunCakes Flavour Paste Cherry
FunCakes Nonpareils lots of love
500 ml whipping cream
125 g unsalted butter
120 ml water
3 eggs (approx. 150 gram)
Cherries
Necessities
FunCakes Decorating Bags
FunCakes Baking Cups
Wilton Recipe Right Muffin Pan
Wilton Tip #1M
Wilton Cooling Grid
Preheat the oven on 180°C (convection oven 160°C).
Prepare 250 gram FunCakes Mix for Cupcakes as indicated on the package and add lemon flavour to taste. Grease the baking pan by using the bake release spray. Divide the cupcakes batter over the baking pan and bake the cupcakes in 18 – 20 minutes in the middle of the preheated oven. Let it cool down by using a cooling grid.
Beat the whipping cream until it forms soft peaks. Mix the bavarois powder with the water and the cherry flavouring and fold this carefully through the whipped cream with a spatula.
Place the tip in the decorating bag and fill this with the bavarois. Decorate the cupcakes with a swirl of bavarois. Finish the cupcakes with the nonpareils and a cherry.
Just a little while before you can enjoy your cupcakes. Don't forget to share your creation:
#funcakesbyme