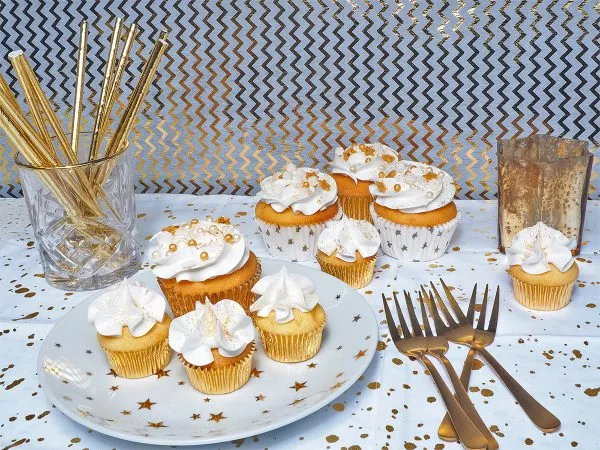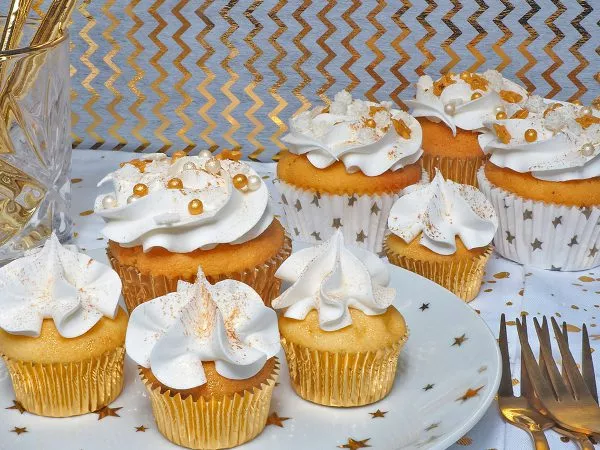 Happy New Year cupcakes
Happy New Year! Make a great start this year with baking these delicious new year cupcakes. Enjoy!
What you need to make your happy new year cupcakes:
Ingredients
500 g FunCakes Mix for Cupcakes
150 g FunCakes Mix for Enchanted Cream®
FunCakes Edible FunColours Sparkle Dust - Glitter Gold
FunCakes Sprinkle Medley Gold
5 eggs (approx. 250 g)
250 g unsalted butter
100 ml water
100 ml skimmed milk
Necessities
Wilton Recipe Right® Mini Muffin Pan
Wilton Recipe Right® Muffin Pan
Wilton Decorating Tip #1M Open Star
Wilton Chrome-Plated Cooling Grid
House of Marie Baking Cups Foil Gold
House of Marie Mini Baking Cups Foil Gold
Soft brush
Preheat the oven to 180°C (convection oven 160°C).
Prepare 500 grams of FunCakes Mix for Cupcakes as indicated on the package. Place the baking cups in the muffin pan and bake the cupcakes for 18 – 20 minutes. Let the cupcakes cool down on a cooling grid.
Prepare 150 grams of FunCakes Mix for Enchanted Cream® as indicated on the package. Place decorating tip #1M in a decorating bag and fill it up with cream. Pipe swirls on top of the large cupcakes and dropflowers on the small ones.
Decorate the large cupcakes with some gold medley. Dip the brush into the dust, hold it above the cupcake and tap the brush so that the dust divides nicely over the cupcakes.
Just a little while before you can enjoy your cupcakes. Don't forget to share your creation:
#funcakesbyme