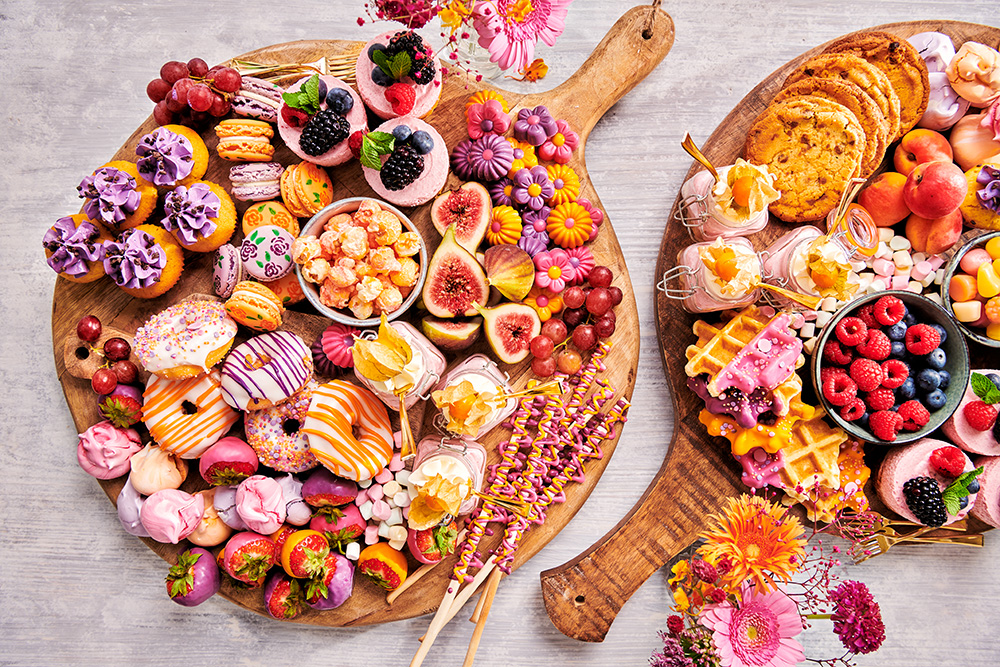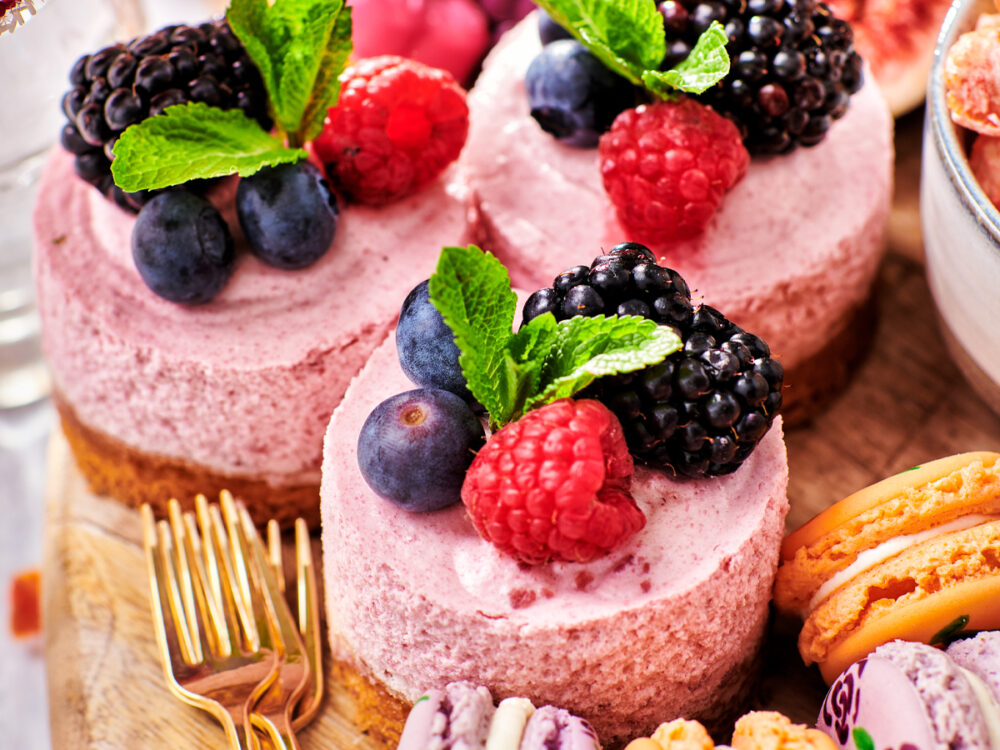 Graze Away Cookie & Crust forest fruit bavarois
As a counterpart to all that sweetness, a fresh bavarois pastry with fruit should certainly not be missing on your graze platter. Any leftover bavarois? Then put that in a small glass together with some crunchy cookie crumbs. An extra treat for your grazing platter without any trouble. 
What you need to make your graze away cookie & crust forest fruit bavarois:
Ingredients
250 g FunCakes Mix for Sweet Cookie & Crust
100 g FunCakes Mix for Crème Patisserie
50 g FunCakes Bavarois Forest Fruits
250 ml whipped cream
185 ml water
75 g unsalted butter
½ egg (approx. 25 g)
Blackberries
Blueberries
Raspberries
Mint leaves
Necessities
FunCaked Decorating Bags
FunCakes Magic Roll Out Powder
FunCakes Bake Release Spray
FunCakes Acetate Roll 5,5 cm
Wilton Wide Glide Rolling Pin 50cm
Wilton Parchment Paper
6 – 8 Patisse Cookies Cutter Round 6cm
Preheat the oven to 180°C (convection oven 160°C).
Knead the dough from the refrigerator well and roll it out on a floured work surface to a thickness of about 1 cm. Spray the cutters with baking spray and cut out circles of dough. Put some pastry cream in a decorating bag and pipe a dollop of pastry cream in the middle of the slice of dough.
Leave the rings around the dough while baking. Bake the mini slippers in about 20-25 minutes until light brown. After baking, remove them from the rings and let them cool. Wash the rings and place them again around the slipper bottoms and stick an edge of acetate foil on the inside of the rings with some water.
Whip the whipped cream into a lumpy cream and mix the 50 g FunCakes Bavarois Forest Fruits with 60 ml water and fold this directly into the lumpy whipped cream. Fill the baking rings with bavarois and let the pastries set in the fridge for at least 2 hours. Decorate the pastries with the fresh fruit and a mint leaf.
Just a little while before you can enjoy your pastries. Don't forget to share your creation:
#funcakesbyme