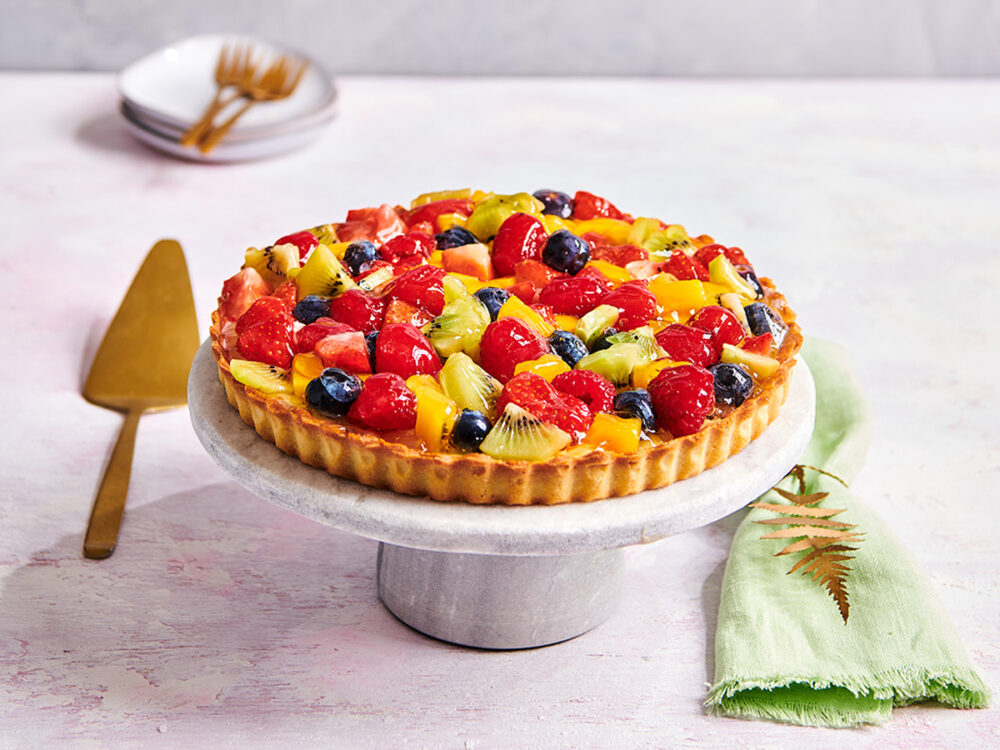 Fruit tartelette
Do you have something to celebrate or are you simply in the mood for a tasty snack? Then go for this fruit tartelette! A real classic and good for every occasion!
What you need to make your fruit tartelette:
Ingredients
300 g FunCakes Mix for Crème Patisserie
100 g FunCakes Icing Sugar
100 g FunCakes Chocolate Melts White
40 g FunCakes Almond Flour Extra Fine
FunCakes Glaze Topping
750 ml water
220 g flour
150 g unsalted butter
30 g beaten egg
Salt
Strawberries
Raspberries
Blueberries
Kiwi
Mango
Necessities
FunCakes Bake Release Spray
FunCakes Magic Roll-Out Powder
Wilton Rolling pin 50cm
Patisse Silver-Top Quiche Mold -Loose Bottom- 24cm
Patisse Silicone Baking Brush
Prepare the tartelette dough from 220 g flour, 150 g butter, 100 g FunCakes icing sugar, 40 g FunCakes almond flour, a pinch of salt and 30 g egg. Wrap it in plastic wrap and let it set in the fridge for an hour.
Preheat the oven to 180°C (convection oven 160°C).
Spray the baking pan with FunCakes Bake Release Spray. Knead the dough from the refrigerator well and roll it out on a floured work surface to a thickness of about 3-4 mm. Place the piece in the mold and lightly press the edges.
Cut off the excess dough with a sharp knife and prick the bottom with a fork. Bake the tartelette base in a preheated oven for about 15-20 minutes until lightly browned and let it cool down.
Melt the 100 g FunCakes Chocolate Melts White according to the instructions on the package and spread the entire inside of the tartelette with a brush and let it set in the fridge for a while. The chocolate prevents the bottom from becoming limp and soft.
Spread the Crème Patisserie over the bottom of the tartelette and place the fresh fruit on top. Stir some FunCakes Glaze Topping in a bowl and spread it over the fruit.
Just a little while before you can enjoy your pastries. Don't forget to share your creation:
#funcakesbyme