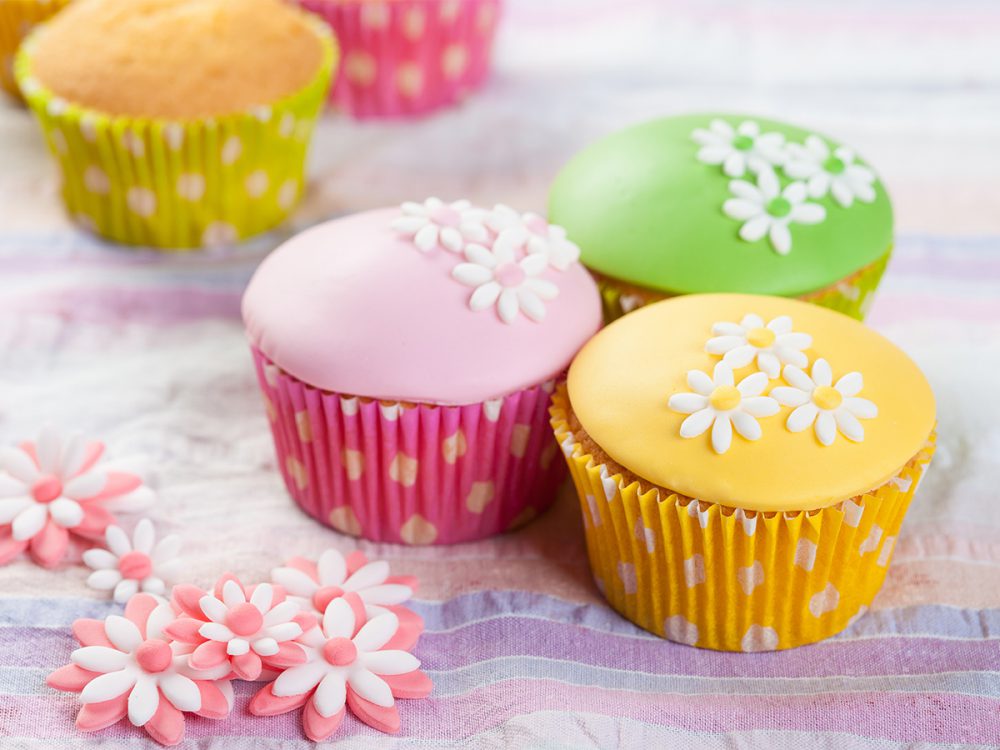 Fondant cupcakes
These fondant cupcakes are a simple option for decorating your cupcakes and they are also delicious!
What you need to make your fondant cupcakes:
Ingredients
500 g FunCakes Mix for Cupcakes
100 g FunCakes Fondant -Sweet Pink-
100 g FunCakes Fondant -Spring Green-
100 g FunCakes Fondant -Mellow Yellow-
100 g FunCakes Fondant -Bright White-
FunCakes Clear Piping Gel
250 g unsalted butter
5 eggs (approx. 250 g)
Necessities
FunCakes Magic Roll-Out Powder
Wilton Recipe Right® 12 Cup Muffin Pan
Wilton -Perfect Height- Rolling Pin 22,5cm
Wilton Chrome-Plated Cooling Grid
PME Daisy Marguerite Plunger Cutter set/4
House of Marie Baking Cups Dot Yellow
House of Marie Baking Cups Dot Pink
House of Marie Baking Cups Dot Lime Green
Cookie Cutter Ring Ø 6,5 cm
Preheat the oven to 180°C (convection oven 160°C).
Prepare 500 grams of FunCakes Mix for Cupcakes as indicated on the package. Place the baking cups in the muffin pan and divide the batter into the baking cups to half fill the cups. Bake the cakes for 18-20 minutes until golden yellow and take them out of the muffin pan. Let them cool down completely on the kitchen counter.
Cover the top of the cupcakes with a thin layer of piping gel.
Knead the fondant well and roll out on some Magic Roll-out Powder. Cut out of the pink, green and yellow fondant a round for every cupcake and place these on the cupcakes.
Roll out the white fondant thinly and cut out flowers. Make small balls of fondant for the hearts of the flowers.
Tip! Cut out flowers in different sizes and colours and stack them for a special effect.
Place them with some piping gel or edible glue on the cupcakes.
Just a little while before you can enjoy your cupcakes. Don't forget to share your creation:
#funcakesbyme