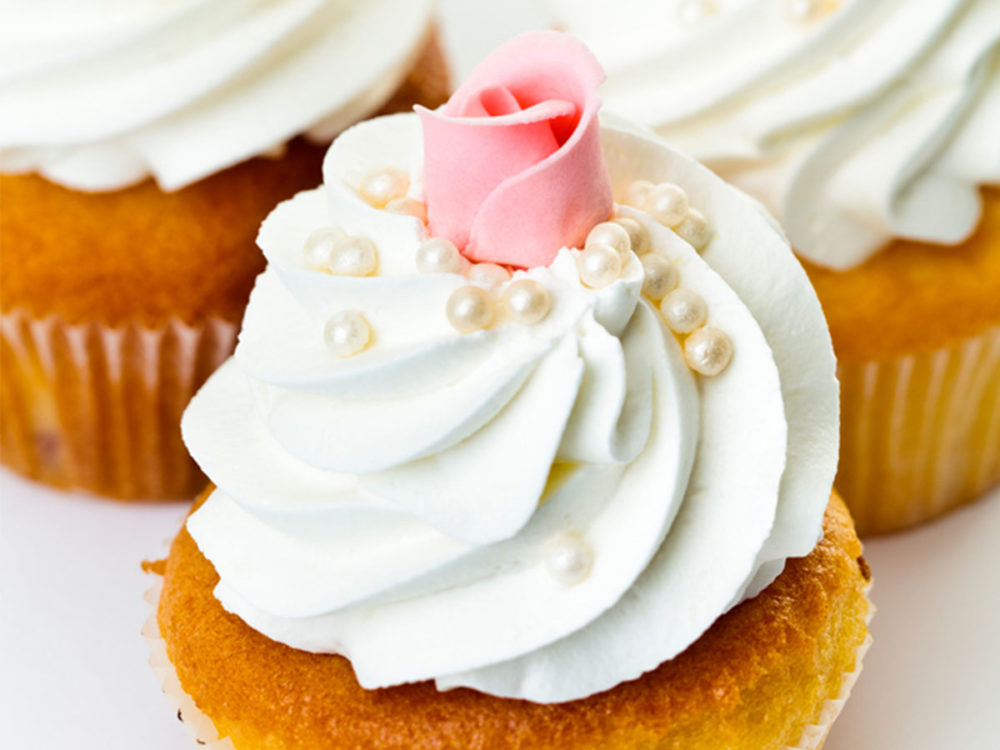 Enchanted cupcakes
The cupcake with Enchanted cream is a perfect combination, this classic cupcake with a bit of special taste. Who doesn't want that?
What you need to make enchanted cupcakes:
Ingredients
500 g FunCakes Mix for Cupcakes
150 g FunCakes Mix for Enchanted Cream®
FunCakes Flavour Paste Sparkling Wine
100 g FunCakes Fondant Sweet Pink
FunCakes Sugar Pearls
250 g unsalted butter
100 ml water
100 ml milk
5 eggs (approx. 250 g)
Necessities
FunCakes Decorating Bags
FunCakes Baking Cups
Wilton Muffin Pan
Wilton Rolling Pin
PME Disposable Craft Knife
Preheat the oven to 180°C (convection oven 160°C).
Prepare 500 grams of FunCakes Mix for Cupcakes as indicated on the package. Fill the muffin pan with baking cups and fill the cups with batter. Bake the cupcakes in 18 – 20 in the middle of the preheated oven. Let them cool down by using a cooling grid.
Prepare 150 grams of FunCakes Mix for Enchanted Cream® as indicated on the package and add flavour paste to taste. Put decorating tip #1M in a decorating bag and fill with enchanted cream®. Pipe alovely swirls on the cupcakes.
Knead the pink fondant well and roll it out on a with magic roll-out powder covered work surface. Cut out a stroke and carefully roll it up to a rose. Put this with the pearls on the swirls.
Just a little while before you can enjoy your cupcakes. Don't forget to share your creation:
#funcakesbyme