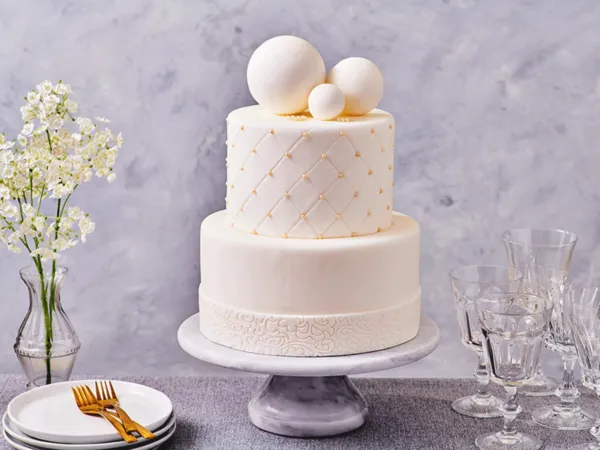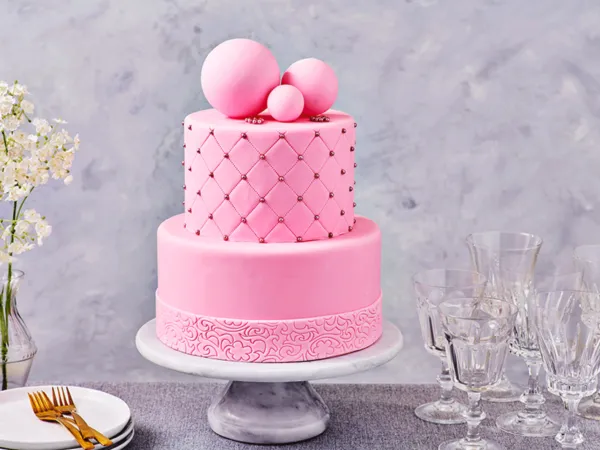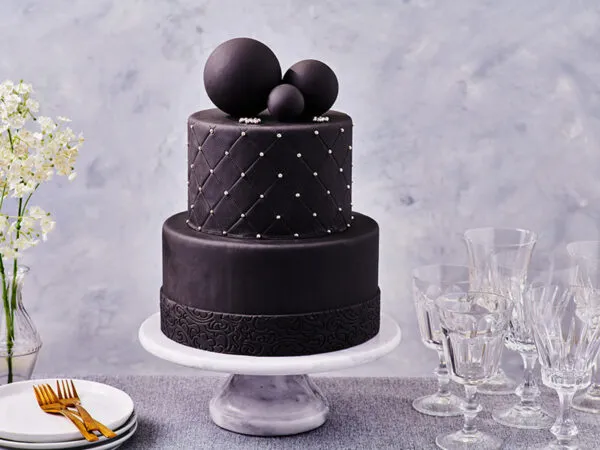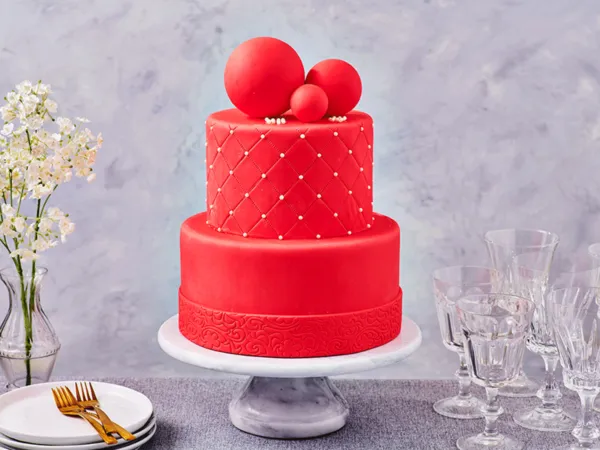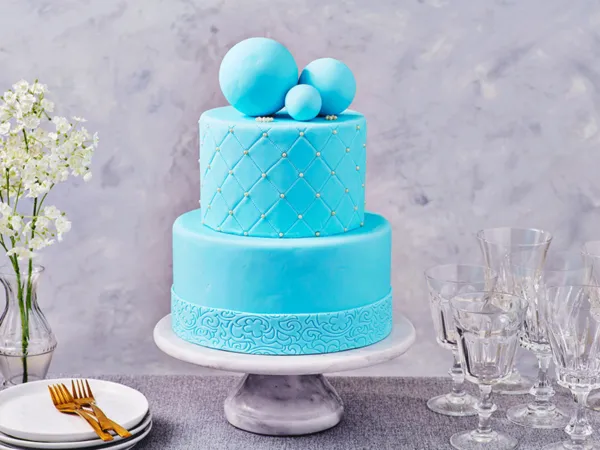 Covering Paste cake
FunCakes is adding a new type of sugar paste to the range: the covering paste! A fondant that's super flexible and pliable. We recommend this paste for all of your cake covering tasks as it can be rolled out even under 2 mm, ensuring perfect, sharp edges! Perfect way to decorate this cake!
2 hour and 30 min. preparing
What you need to make your covering paste cake:
Ingredients
500 g FunCakes Mix voor Sponge Cake Deluxe
300 g FunCakes Mix for Buttercream
1 kg FunCakes Covering Paste
FunCakes Soft Medium Pearls White
FunCakes Piping Gel
FunCakes Edible Glue
FunCakes Bake Release Spray
Jam of your choice
8 eggs (approx. 400 g)
350 ml water
375 unsalted butter
Necessities
FunCakes Dummy Bowl Ø3
FunCakes Dummy Bowl Ø5
FunCakes Dummy Bowl Ø7
FunCakes Cake Boards Silver/Gold Round 15cm
Wilton Extra Deep Round Baking Pan Ø 15 x 10 cm
Wilton Extra Deep Round Baking Pan Ø 20 x 10 cm
Wilton Plastic Dowel Sticks Set/4
Wilton Wide Glide Rolling Pin
Wilton Cake Leveler Small
Wilton Cooling Grid
Wilton Rolling Pin with Rings
Wilton Comfort Grip Spatula Angled 22,5 cm
Wilton Basic Turntable
FMM Multi Stroken Cutter
FMM Impression Mat Vintage Lace
Patchwork Cutter Diamant Design
Preheat oven to 180°C (convection oven 160°C) and grease baking pans with baking spray.
Prepare 500 g FunCakes Mix for Sponge Cake Deluxe according to package directions. Divide the cookie mix between the baking pans and bake for about 30-35 minutes until done. Immediately after baking, dump them onto a cake rack and allow to cool.
Cut the cookies with the cake saw 2x and fill them with jam of your choice and a thin layer of buttercream and also spread the entire outside with a thin layer of buttercream. Place the cakes in the refrigerator and let set for at least half an hour.
Knead the Covering Paste smoothly and roll it out to a thickness of 2 mm and line the cakes with it. Press a pattern in the small cake with the diamond cutter and paste pearls in the intersections.
TIP! You can make this cake in white, pink, red, blue and black! Check out our Covering Paste & the colours here.
Make a roll from the Covering Paste and roll it out very thin. Press the impression mat into this and with the strip cutter make a strip about 3 to 4 cm wide that fits around the cake and stick it with edible glue.
Press four dowels into the large cake and cut to size. Place the small cake on top with a cardboard cut to size if necessary. If necessary, put a lick of buttercream between the two cakes against sliding.
Coat the Styrofoam balls with piping gel and cover them with a piece of thin fondant. Stick the balls with a little buttercream on top of the cake.
Just a little while before you can enjoy your cakes. Don't forget to share your creation:
#funcakesbyme