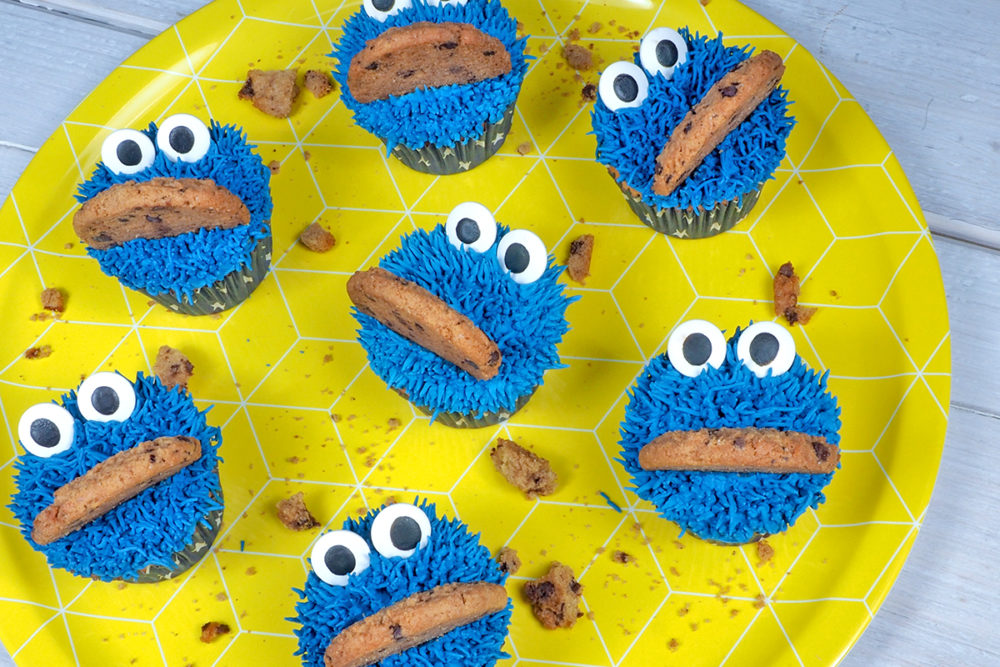 Cookie monster cupcakes
Do you love cookies as much as cookie monster does? Once you start eating these cupcakes you won't be able to stop, but the best thing is that it's really simpel. It's a plain cupcake with an enchanted cream topping and cookie on top.
What you need to make your cookie monster cupcakes:
Ingredients
500 g FunCakes Mix for Cupcakes
150 g FunCakes Mix for Enchanted Cream®
FunCakes FunColours Gel – Royal Blue
Wilton Large Candy Eyeballs
5 eggs (approx. 250 g)
250 g unsalted butter
200 ml milk
Small chocolate chip cookies
Necessities
FunCakes Decorating Bags
FunCakes Baking Cups -Blue-
Wilton Recipe Right® Muffin Pan
Wilton Decorating Tip #233
Wilton Cooling Grid
Preheat the oven to 180°C (convection oven 160°C)
Prepare 500 grams of FunCakes Mix for Cupcakes as indicated on the package. Bake the cupcakes for 18 – 20 minutes in the middle of the preheated oven until golden. Let the cupcakes cool down completely using a cooling grid.
Prepare the 150 g FunCakes Mix for Enchanted Cream ® and colour it blue using the colouring gel. Put decorating tip #233 in a decorating bag and fill it with the enchanted cream. Apply a thin layer of enchanted cream on top of the cupcake and ppe short hairs on top of the cupcakes.
Cut off a small part of the chocolate chip cookies and gently push it into the enchanted cream together with the eyes.
Just a little while before you can enjoy your cupcakes. Don't forget to share your creation:
#funcakesbyme