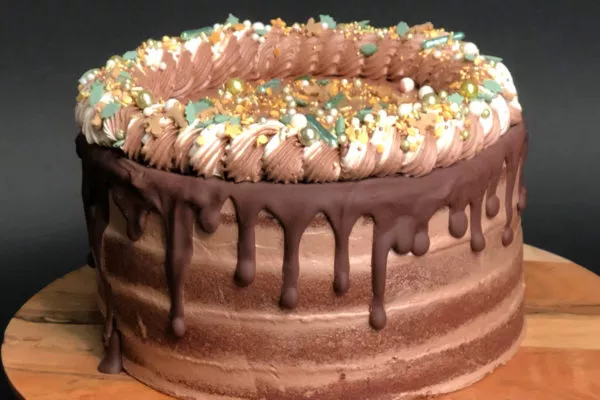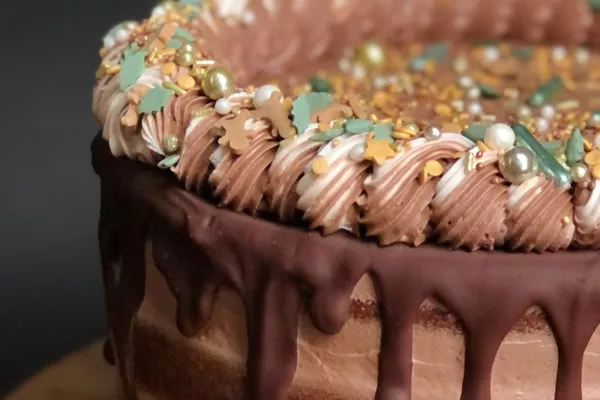 Christmas choco drip cake
Drip your Christmas vibes on a cake! With a cake like this you can always surprise someone, your grandfather, grandmother, family or neighbors! Who will you surprise with a cake this year? The Christmas chocolate drip cake is a gift for everyone and makes 2020 a little bit brighter!
What you need to make your christmas choco drip cake:
Ingredients
500 g FunCakes Mix for Choco Sponge Cake
150 g FunCakes Special Edition Mix for Enchanted Cream® Choco
150 g FunCakes Mix for Enchanted Cream®
100 g FunCakes Chocolate Melts Dark
FunCakes Medley Joyfull
6 eggs (approx. 300 g)
510 ml water
Necessities
FunCakes decorating bags
FunCakes Bake Release Spray
Wilton Tip #4B Open Star
Wilton Cake leveler 25cm
Wilton Decorator Preferred Spatula angled 32,5 cm
Wilton cooling grid
Preheat the oven to 180 ° C (convection oven 160 ° C).
Prepare 500 g FunCakes Mix for Choco Sponge Cake as indicated on the package. If you have two baking pans, make the sponge cake batter in 1 go and divide that over the baking pans. If you have 1 baking pan, you bake 250 g of chocolate sponge twice. Grease the baking pan with baking spray, fill the pan with batter and bake the biscuits for 30-35 minutes. After baking, place the biscuits on a cooling grid and allow to cool completely.
Cut the biscuits in half twice and fill alternately with the white and chocolate Enchanted Cream® and stack on top of each other. Insert a dowel in the middle and cut to size. This prevents possible sliding of the layers. Cover the entire outside of the cake with a thin layer of choco Enchanted Cream®, so that you can clearly see the layers.
Melt the pure melts in the microwave as indicated on the package, put this in a decorating bag and cut off a small tip. Let the chocolate slide down the edge of the cake and then put the cake in the fridge for 10 minutes so that the chocolate can stiffen.
Place a sheet of plastic foil on your worktop and make two strips of the two colors Enchanted Cream® one under the other, roll it up, close 1 side and cut the other side in the cream. You put this side down in the decorating bag with tip 4B. Spray a beautiful garland on the top edge of the cake with a twisting motion and sprinkle the Christmas medley over it.
Just a little while before you can enjoy your cakes. Don't forget to share your creation:
#funcakesbyme