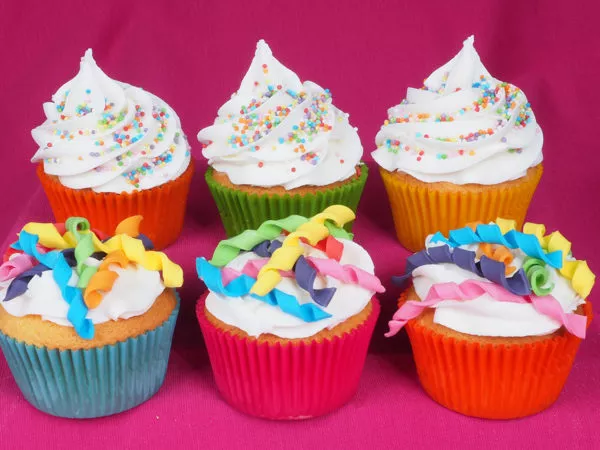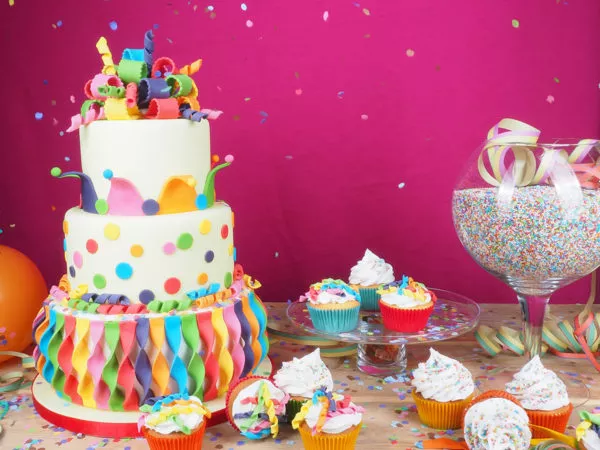 Carnival Cupcakes
Unfortunately, carnival is only once a year, but with these carnival cupcakes you can make the day even more memorable.
What you need to make your carnival cupcakes:
Ingredients
500 g FunCakes Mix for Cookies
200 g FunCakes Mix for buttercream
50 g FunCakes Rolfondant Pink
50 g FunCakes Rolfondant Blue
50 g FunCakes Rolfondant Green
50 g FunCakes Rolfondant Purple
50 g FunCakes Rolfondant Yellow
50 g FunCakes Rolfondant Orange
50 g FunCakes Rolfondant Red
FunCakes Nonpareils Discomix
500 g unsalted butter
5 eggs (ca. 250g)
200 ml water
Jam
Necessities
FunCakes Disposable Decorating Bags
FunCakes Baking Cups
Wilton Recipe Right Muffin Pan
Wilton decorating tip #1M
Wilton Perfect Height Rolling Pin
PME Craft Knife
Skewer
Preheat the oven to 180°C (convection oven 160°C).
Prepare 500 g FunCakes Mix for Cupcakes and 200 g FunCakes Mix for Buttercream as indicated on the package.  Place different colours of baking cups in the muffin pan and fill them till two third with batter. Bake the cupcakes for 18-20 minutes and let them cool down on the kitchen corner out of the pan.
Roll out all colours of fondant, cut of small strips with a sharp knife and roll these around a skewer. Let them dry for an hour.
Create a whole in the cupcakes with the back of the decorating tip and fill this up with jam. Put the tip in a decorating bag, fill with buttercream and pipe a nice swirl on top of the cupcakes.
Sprinkle discomix on one part of the cupcakes, and place the serpentines on the other half.
Just a little while before you can enjoy your cupcakes. Don't forget to share your creation:
#funcakesbyme