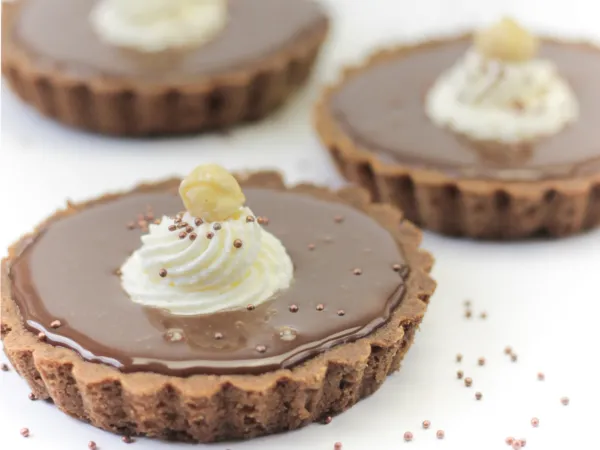 Caramel ganache tartelettes
Bake these delicious tartelettes with an irresistible filling, caramel and chocolate ganache. A delicious bitesize cake that tastes like more! Also useful as a treat!
What you need to make your caramel ganache tartelettes:
Ingredients
500 g FunCakes Mix for Cookies
100 g FunCakes Chocolate Melts Milk
100 g FunCakes Chocolate Melts Dark
275 g unsalted butter
200 ml whipped cream
4 tbsp brown caster sugar
1 can of condensed sweetened milk (457 g)
1 egg (approx. 50g)
Necessities
Wilton parchment paper
Kaiser Tartelette Pans -10cm-
Prepare 500 g of FunCakes Mix for Cookies as indicated on the packaging. Wrap the dough in cling film and place in the refrigerator for 1 hour.
Preheat the oven to 200°C (convection oven 180°C).
Knead the dough and roll it out on a floured work surface to about 3 mm thick. Cover the greased tartlet molds with this. Bake the tartelettes for about 15 minutes.
Bring the condensed milk, along with 50 g butter and the brown caster sugar to a gentle boil. Keep the temperature under the pan as low as possible and keep stirring permanently with a wooden spoon. Don't leave the pan alone for less than a minute without stirring, as it burns very quickly. The caramel is ready as soon as you run the spoon over the bottom of the pan and the bottom remains visible for about 3 seconds.
You make the ganache by heating 100 ml of whipped cream and letting the chocolate melts dissolve in it. Let the ganache cool down until it is still runny but thick. Repeat for the pure ganache.
Coat the bottom of the molds with the caramel and pour a layer of milk ganache on top. Let this cool and stiffen and then pour a layer of dark chocolate ganache on top. Top it all off with whipped cream, hazelnuts and caramel.
Just a little while before you can enjoy your pastries. Don't forget to share your creation:
#funcakesbyme