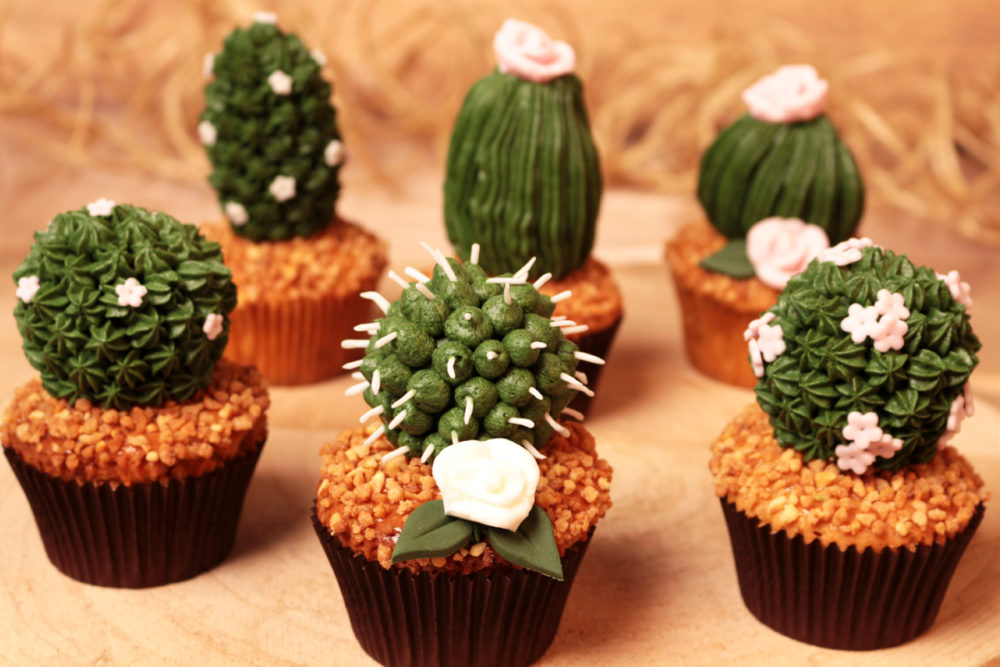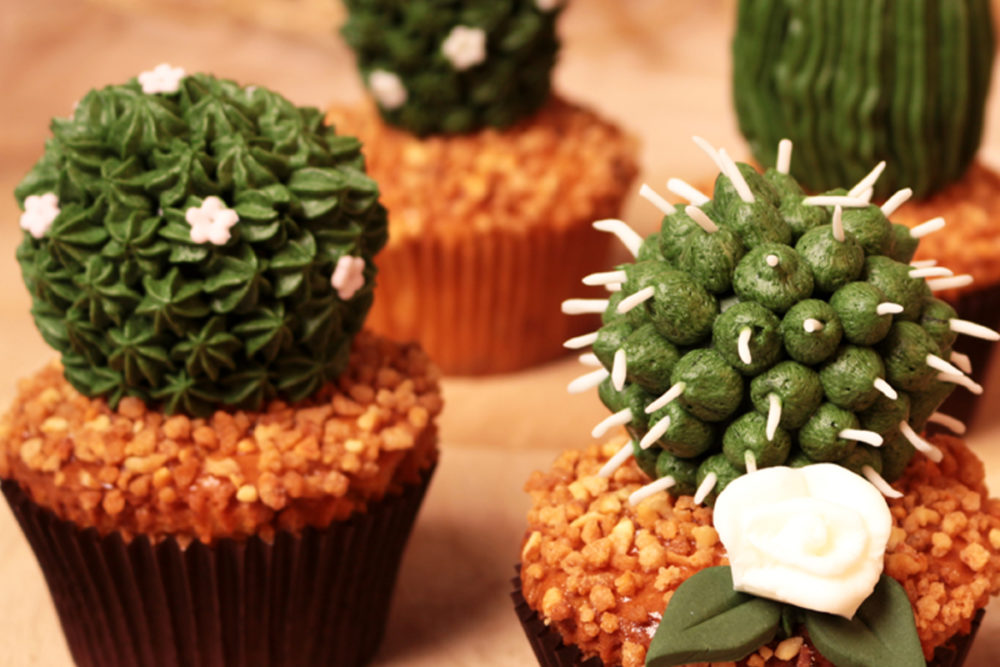 Cactus cupcakes
Combine delicious cupcakes with cactus and bring them to you next occasion to share these delicious cactus cupcakes!
What you need to make your cactus cupcakes:
Ingredients
500 g FunCakes Mix for Cupcakes
125 gram FunCakes Mix for Buttercream
FunCakes Flavour Paste - Hazelnut
FunCakes Hazelnut Crunch
FunCakes FunColour Paste Food Colour -Green-
500 g FunCakes Fondant -Forest Green-
FunCakes Fondant -Bright White-
FunCakes Fondant Sweet Pink
400 g unsalted butter
125 ml water
5 eggs (aprox. 250 g)
Necessities
FunCakes Baking Cups -Brown-
FunCakes Decorating bags
Wilton Recipe Right® Muffin Pan
Wilton Piping Gel
Wilton Decorating Tip #018 Open Star Carded
Wilton Decorating Tip #004 Round Carded
Wilton Perfect Height Rolling Pin
PME Flower Blossem Plunger Cutter
Karen Davies Siliconen Mould -Ruffled Roses
JEM Tool 4- Dresden & Veining
Patisse Wooden Bursh 1,5 cm
Cocktail sticks
Preheat the oven to 180°C (convection oven 160°C).
Prepare 500 g FunCakes Mix for Cupcakes as indicated on the package and add half the pot of hazelnut crunch and the hazelnut flavouring to the cupcake batter. Place the baking cups in the muffin pan and fill them with the batter. Bake the cupcakes in 18 – 20 minutes in the middle of the preheated oven. Let them cool down by using a cooling grid.
Add piping gel to the top of the cupcakes and sprinkle all of them with hazelnut crunch. Use the green fondant to make balls and cones, put a cocktail skewer in the bottom and place them on the cupcakes. Pipe long stripes on the cones using the buttercream and pipe stars and dots on the balls.
Roll a piece of white fondant into a very thin string, cut into pieces and let it dry. Then put them in the small caps. Make a number of flowers in white and pink and place them on the cupcake. Roll out a piece of white and pink fondant, stick out a blossom and stick it against the cactus.
Just a little while before you can enjoy your cupcakes. Don't forget to share your creation:
#funcakesbyme