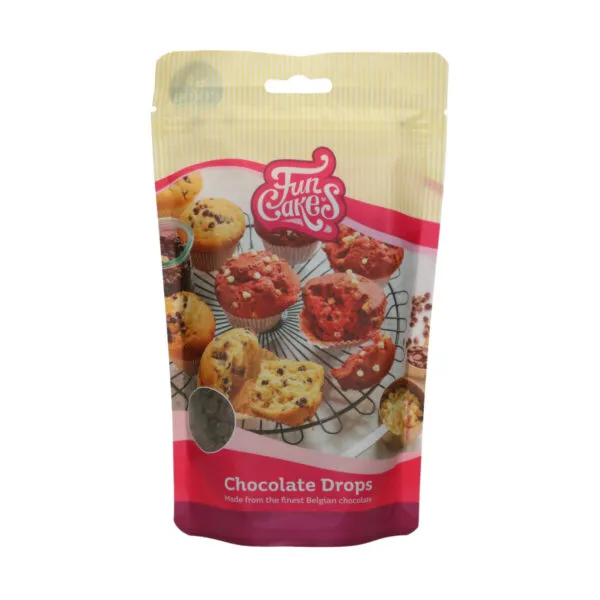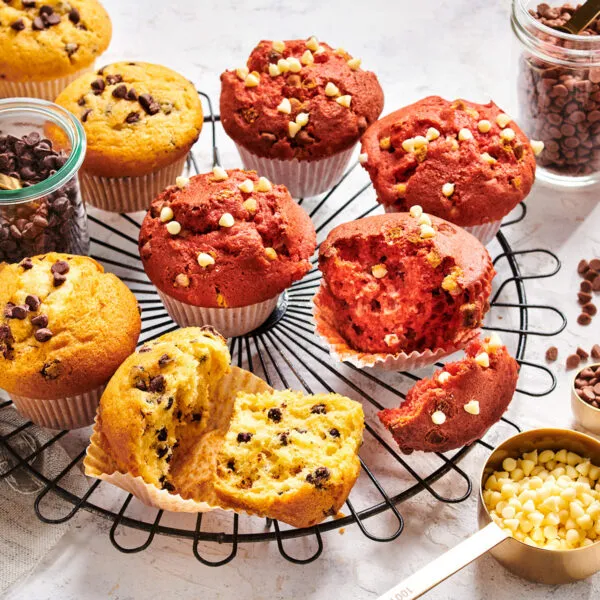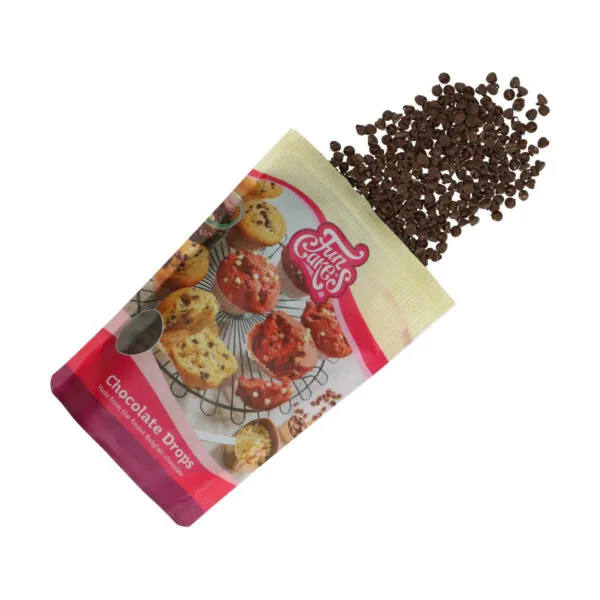 Chocolate Drops Dark
Add chocolate chips to muffins, cookies and cakes with bake stable chocolate! Bake stable chocolate is chocolate that doesn't melt. It can therefore resist the high temperatures of your oven and be added to your batters. Do you like a bit of a bite in your muffins, cookies or cakes? Then try adding these chocolate drops from FunCakes. The drops are available in milk, dark and white and made of real Belgian Chocolate. Cause when you've been in the kitchen for hours working on that fine piece of art, you're not settling for anything but the best.
Sugar, cocoa mass (33%), cocoa butter (8%), emulsifier: E322 (soy), flavouring (vanilla).
For allergens, see ingredients in bold.
May contain traces of: milk.
Store in a cool, dry place, 8-20°C.
Nutritional values per 100 g
| | |
| --- | --- |
| Energy | 2113 kJ / 505 kcal |
| Fat | 25,9 g |
| of which saturated | 15,5 g |
| Carbohydrate | 60,7 g |
| of which sugar | 58,5 g |
| Protein | 3,9 g |
| Salt | 0 g |
Pour the desired amount of drops directly into the desired product (batter, dough, ice cream, etc.).
In the FunCakes range you will find Chocolade Drops and Chocolade Chunks. These are both bake stable chocolate chips, only the size of the chips is different. The drops are a size smaller than the chunks and therefore best suitable for muffins and cakes. Because of the smaller size they divide nicely through your batter and have a smaller chance of sinking to the bottom. Are you planning to make Chocolate Chip Cookies, than we recommend to use Chocolate Chunks.
The dark Chocolate Drops contain minimum 40% cocoa solids.
Due to different temperatures, the drops may melt in transit. They still can be used but they may not arrive in the original wafer shape. Follow the regular instructions on the package to process the melts.